Quick Fact
Based on endowment per student, Hampden-Sydney is in the top 25% of institutions of higher education.
Dr. Devlin's Excellent Adventure
August 27, 2012
Ed Devlin, Elliott Professor of Biology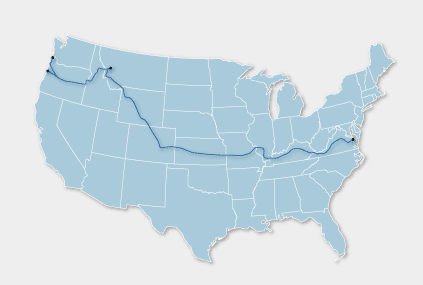 I have been riding road-bikes on and off for years, especially during the summer. I often ride before or after work at the College on the back-roads around HSC. Cyndy was planning a "sabbatical" for herself in Santa Fe for the summer of 2012. When she started organizing her stay,the thought occurred to me that I would miss her and maybe I could ride my bike out Santa Fe to see her. When I started looking into it, I found that there is a well-known bike route that not only goes close to Santa Fe, but also crosses the US, so that got me thinking...
As a result in the spring 2012 I decided attempt to ride the Trans-American (Transam) or Bi-Centennial Bike Route over the upcoming summer. This is a route that was established by a group of experienced cyclists to celebrate the Bi-Centennial back in 1976. The route starts in Yorktown, Virginia and continues on to the coast of Oregon through secondary roads and a cross-section of small-town America. The Transam bike route offers one a unique and intimate opportunity to experience our country. Below is an outline of the Transam route and the states it crosses.