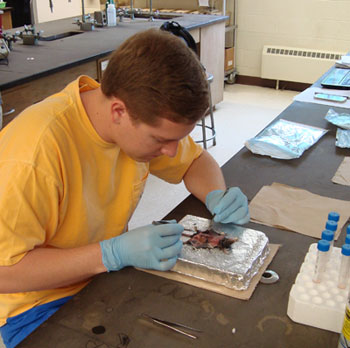 Senior biology major Travis Goodloe was recently awarded 1st Place in the poster competition for research he presented at the 2015 Virginia Branch Meeting of the American Society for Microbiology. Travis' research, which he conducted with Associate Professor of Biology Dr. Kristian M. Hargadon '01, involved the development of a quantitative RT-PCR-based assay for detecting metastatic melanoma cells in tumor-draining lymph nodes.
His study provides a framework for future research aimed at investigating factors the promote lymph node invasion by melanoma, and the assay he developed may ultimately provide a useful diagnostic tool for assessing melanoma progression. Travis' poster earned the top honor from among 59 research posters presented by both undergraduate and graduate students from colleges and universities throughout the state.
Travis will attend medical school at the University of South Alabama following his graduation in 2016.
According to Dr. Hargadon, "This is a tremendous honor for an undergraduate. Travus was judged mainly against graduate students."