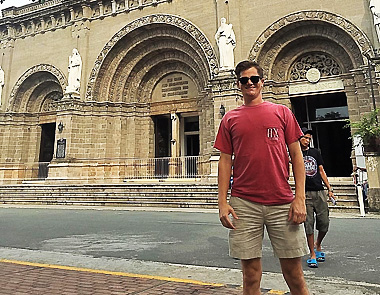 For the second consecutive summer, Patrick Woolwine '17, a foreign affairs major from Fairfax, Virginia, has worked as a global security researcher for the defense contracting firm Cubic Global Defense. The firm directly supports the Cooperative Biological Engagement Program of the US Defense Threat Reduction Agency (DTRA) under the Department of Defense.

Patrick's team travels all over the world to protect national security and to engage and assist foreign governments with achieving their international obligations under the Biological Weapons Convention. This summer, Patrick traveled to Manila, Philippines, to attend a national biological materials-of-concern write-shop for that country's government. The two-day event was hosted by the Biological Risk Association Philippines in partnership with the U.S. Defense Threat Reduction Agency Cooperative Biological Engagement Program. This program made recommendations for beginning to establish a regulatory mechanism for biosecurity and created a preliminary list of biological materials that pose a security threat to humans, animals, or plants.
He says his liberal arts education is entirely relevant to this kind of work, "I have to consider written foreign and national security policy, as well as the science behind what drives the establishment of that policy and the regulatory mechanisms those policies create."
His work with DTRA inspired his senior thesis in foreign affairs. "I argue that the U.S. government, through DTRA, should establish bioethics programs in the rising biotech countries in South America in order to establish biosafety and biosecurity in laboratories as a means of protecting National Security."
Patrick will complete his requirements for graduation in December and begin working fulltime with Cubic Global Defense as a global security analyst working in the Cooperative Biological Engagement Program.