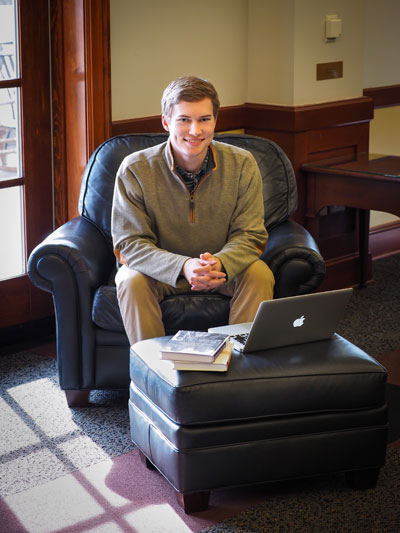 Sometimes, the situation makes the man. Thanks to a quick decision, senior Brian Collins-who has never even donated blood before-will be a bone marrow donor later this month.

Last fall, Hampden-Sydney held its third "Get Swabbed" drive to help match potential bone marrow donors with cancer patients. The likelihood of being even a preliminary match is less than 1%. Among preliminary matches, fewer than 12% can actually donate bone marrow. Brian knew his chances were slim, but he thought he might as well take part.

"Right before Winter Break, they called me and said, 'You're a preliminary match. Do you want to be a bone marrow donor?' It took me about 10 minutes to decide. I thought, 'This is an actual person. I have been matched to a person with cancer.' I couldn't say, 'no.'"

Brian's mother has been a critical care nurse for 33 years, and he says she was nervous at first. However, the more Delete Blood Cancer, an international organization that runs the "Get Swabbed" drives and organizes the bone marrow donations, taught Brian and his family about the procedure, the better everyone felt about going forward.

As an economics major, Brian was sure to weigh the risks against the benefits. He says, "Dr. Carilli tells us that economics isn't all about money; this is a great example of what he's talking about. I saw quickly how the benefits of being a bone marrow donor outweigh any risks."

And there are some risks, despite many improvements to the procedure. Brian says only 25% of bone marrow donors undergo an invasive procedure. Most of them, including Brian, receive a series of injections that stimulate stem cell growth. The stem cells are then harvested in a procedure similar to donating white blood cells.

"I have been an athlete for years but honestly I have always gotten freaked out when I've had to have any kind of procedure done. This has really been a discovery process for me. Delete Blood Cancer has been great. They have educated me and my family about the process and they haven't sugar-coated answers to our questions, so I have developed a lot of trust in them. They make me very comfortable."

Student Body President Aaron Gilani '15 started the "Get Swabbed" drive at Hampden-Sydney a few years ago after hearing about it at another college. He says that during the past two years more than 200 students, faculty, and staff have been swabbed and entered into the bone marrow donation database. Brian is not the first Hampden-Sydney student to be matched with a cancer patient. Chris Myers '14 was swabbed as a student and donated last year.

This month, Brian will probably miss a few days of classes when he goes to make the donation, but he knows that is a small sacrifice.
"I couldn't pass it up. I get more and more excited about being a donor every time I talk to someone about it. It's not really an accomplishment, but I am still very proud."
He has a right to be proud. His contribution could save the life of a complete stranger.

If you are interested in learning more about bone marrow donation or registering to become a donor, visit www.deletebloodcancer.org.