John T. Kroencke '16
On April 4 and 5, six economics students affiliated with the Center for Entrepreneurship and Political Economy (CEPE) presented their research topics at the annual meeting of the Association of Private Enterprise Education.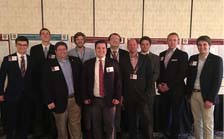 The six students (John Kroencke '16, Adam Witham '16, Justin Parker '16, Matt Stiltner '16, Cameron Tilley '16, Almantas Palubinskas '16), Dr. Geoffrey Lea, assistant professor of economics and business, and Dr. Justin Isaacs '95, associate professor of economics and business, attended the conference with three alumni currently enrolled in Ph.D. programs: Alexander Cartwright '13, Dylan Dellisanti '14, and Perry Ferrell '15. In addition to presenting their own research, attendees were privileged to see talks by Nobel Prize winner Vernon Smith and other distinguished economists.

Many students who have been introduced to classical liberal political economy by the CEPE have pursued graduate school upon graduation. During this semester, four Ph.D. alumni have returned to campus in order to present current research projects to students as part of a new Tigers of Political Economy (ToPE) lecture series. As the CEPE Director of Student Outreach, Dr. Tony Carilli, told The Record, "The ToPE inspires students to follow in the footsteps of alumni who have pursued a career that allows them to follow their passion for classical liberal political economy. By interacting with one of their own, students can better make the connection between their own education and their lives after college, pursuing ways to make the world more just and prosperous." In addition to Cartwright and Dellisanti, Tom Duncan '05 and Dash Kelley '08 participated in the series, which is covered in the latest issue of The Record. Cartwright, Dellisanti, and the CEPE were also featured in the July 2015 issue of The Record. John Kroencke, Adam Witham, and Justin Parker have already accepted fully-funded offers to Ph.D. programs at George Mason, Clemson, and West Virginia, respectively. Additional CEPE-affiliated seniors have applied for graduate school and may take the number of students from the Class of 2016 to four or five.