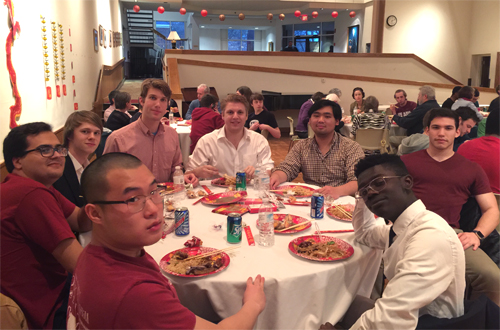 The Year of the Monkey is off to a wonderful start thanks to a dinner and program hosted by Hampden-Sydney College's International Club. The Chinese New Year celebration on Saturday, February 20 consisted of presentations by Dr. William "Bill" Anderson and Ben Lam '17 followed by a dinner catered by Jade Palace and Andy Chang's Chinese Grill in Lynchburg, Virginia. Dr. Anderson compared his experience teaching in China in the 1980s with the country today, while Ben, who is Chinese American, shared his experience of celebrating the rituals and traditions of Chinese New Year with his family.

More than 70 students, faculty, and community members attended the event. One of the students, Jacob Gray '18, enjoyed the event saying, "the food was great, but the culture and rituals we learned about were just as important. Dr. Anderson's presentation comparing China in the 80s and China now was eye-opening and funny."

The goal of the International Club is to help the students of H-SC realize that we are all part of a much larger world. In order to achieve this goal, we have held three international events: Hispanic Heritage Dinner (Fall 2015), International Food and Film Festival (Fall 2015), and this semester's Chinese New Year Celebration. We will be hosting one more event this semester in April to celebrate Holi, the Indian Festival of Color.