Dr. Erin Clabough, an assistant professor of biology at Hampden-Sydney College, has been selected by the Virginia Foundation for Independent Colleges (VFIC) as the 2018 recipient of the H. Hiter Harris III Rising Star Award. She received the award in November at the VFIC Annual Luncheon in Richmond, Virginia. The Rising Star award is given annually to one outstanding faculty member who has demonstrated great promise early in his or her career.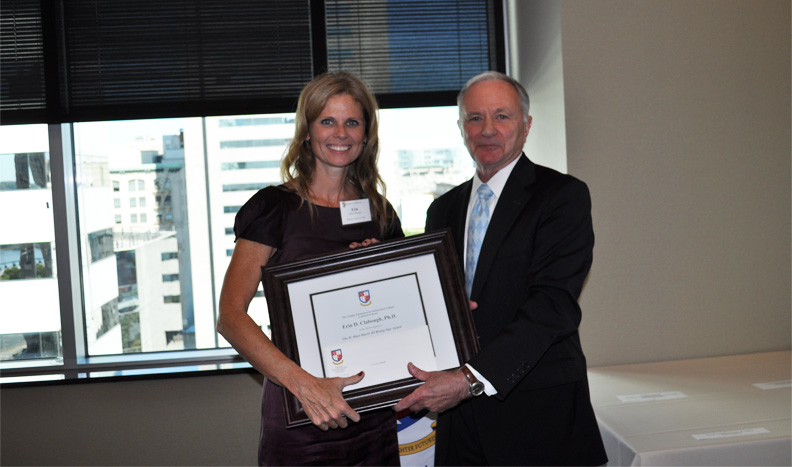 The VFIC's 15 member colleges submit nominations each year, and the foundation selects one recipient after evaluating a number of factors. These include the nominee's impact and involvement with undergraduate students; his or her scholarly approach to teaching and learning; contributions to undergraduate education in the institution, community and profession; and endorsements from colleagues and current or former students.
"Dr. Clabough's expertise in her field and dedication to our students make her highly deserving of this prestigious honor," said Hampden-Sydney Dean of the Faculty Walter M. McDermott. "The transformative Hampden-Sydney experience would not be possible without the many remarkable faculty who teach and advise our students. We are fortunate to have Dr. Clabough as a member of our faculty, and our students are fortunate to have her as an educator and mentor."

Dr. Clabough believes that experiential learning is the most effective way to engage students and to foster competent, responsible problem solving skills inside and outside of the classroom. In the last six years, Dr. Clabough has published with 43 different undergraduate students in peer-reviewed journals including Brain and Behavior, f1000.org, the Encyclopedia of Life Sciences (eLS), and the Journal of Visualized Experiments (JoVE). Most of these publications are student-designed and written projects done within the context of upper level Neurobiology, Vertebrate Physiology, and Developmental Biology courses.

Dr. Clabough's research students have worked on a variety of important subjects with major health consequences for humans. These include the growth of neuronal spines and their connection to fetal alcohol exposure, the impact of toxins on neurodevelopment, and the role of the huntingtin protein in Huntington's Disease. Her work with students has spanned all sorts of methods from tissue culture and histology to molecular methods and protein analysis, to design of behavioral experiments on mice, zebrafish, and fruit flies.

The VFIC is a strong statewide organization that works to preserve Virginia's small independent colleges for students now and in the future and supports 15 leading independent colleges in the Commonwealth: Bridgewater College, Emory & Henry College, Hampden-Sydney College, Hollins University, University of Lynchburg, Mary Baldwin University, Marymount University, Randolph College, Randolph-Macon College, Roanoke College, Shenandoah University, Sweet Briar College, University of Richmond, Virginia Wesleyan University and Washington and Lee University. For additional information on the VFIC, visit www.vfic.org.