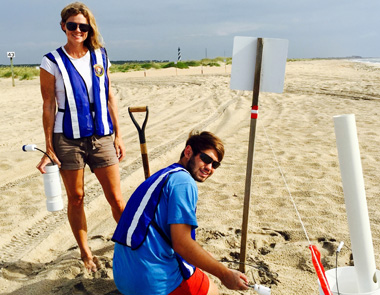 Erin Clabough, assistant professor of biology, used her past volunteer experience as a turtle nest sitter through the National Park Service to become involved with a research opportunity in Hatteras, North Carolina. She received a fellowship award from the Mednick Fellowship Committee of the Virginia Foundation for Independent Colleges (VFIC) for her project "Using high tech sensors and cell phone networks to protect sea turtle hatchlings." The VFIC is a non-profit fundraising partnership supporting fifteen smaller enrollment, undergraduate, residential Virginia member colleges.
The award funds Clabough's research investigating the developmental patterns that regulate sea turtle hatching on Hatteras Island. The work involves the placement of sensors into newly laid sea turtle nests using an innovative, remote controlled, real time access sensor and communication system designed to monitor motion within the nests. This Turtle Sense project is a highly collaborative effort (with the National Park Service and the Hatteras Island Ocean Center) that seeks to better monitor the turtle nests to preserve the health of endangered sea turtle hatchlings, while lessening the impact of beach closures for people.
During the summer, Clabough and Josh Chamberlin '17, who has been involved since the experiment's design, placed the sensors in nests on Hatteras Island National Seashore between the Hatteras lighthouse in Buxton and the tip of Hatteras village. The sensor data can be used to more accurately predict baby sea turtle emergence onto the sand. Ordinarily, nest sitters watch turtle nests nightly for a period that can last over a week. By narrowing the emergence prediction window, volunteer resources can be utilized more efficiently.
Clabough and Chamberlin will continue to monitor the nest data every six hours as turtles start to emerge from the sensored nests in early-mid September. During the fall semester, Chamberlin will complete independent research working with the data from the turtle nests. This is an extension of his summer research through the H-SC Honors Program, which he did jointly with an internship at the Hatteras Island Ocean Center. The HI Ocean Center internship will be available next year for interested H-SC students.
"It's wonderful for smaller schools to have support opportunities like the Mednick Fellowships, and I'm honored to have received one," says Clabough. "These type of project-based awards are vitally important to allow faculty to follow the research ideas that they feel passionate about, even if the work is outside their traditional area of scholarship."
Clabough, who joined the H-SC faculty in 2015, earned her BA from Randolph-Macon College, and her PhD from the University of Virginia. Her research investigates the regulation of developmental processes, with a focus on neuroscience. She was recently named to the Hatteras Island Ocean Center's Scientific Board of Advisors.