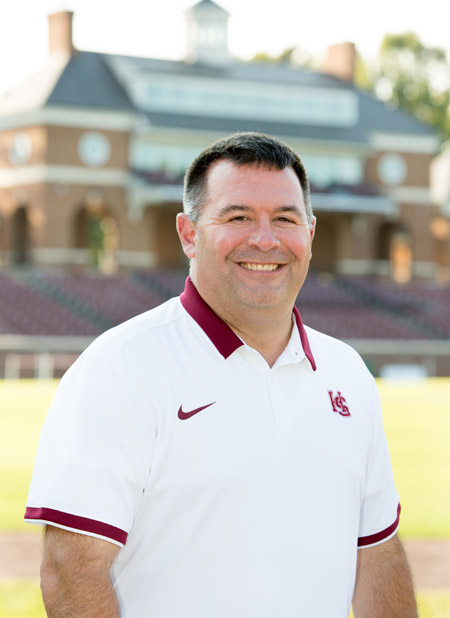 This article originally appeared in the Fall 2017 Record.
Hampden-Sydney's new director of athletics joins the Tigers after 25 years working in collegiate athletics, as both a coach and an administrator. Chad Eisele's career has included stints at a variety of institutions-public and private, large and small, urban and rural—all of which have prepared him to take the helm of Hampden-Sydney athletics.
Several of Hampden-Sydney's unique attributes drew Eisele to the College, especially its sense of history, athletic legacy, and enduring mission. "There wasn't going to be another opportunity to serve at one of the oldest colleges in the nation," notes Eisele, "and the mission to form good men and good citizens has clearly stood the test of time. From the moment I arrived on campus, it was clear that Hampden-Sydney's mission statement isn't just a slogan on a bumper sticker. Everyone I spoke with—from Trustees, to professors, to coaches, to students—has bought into it completely."
That distinctive mission creates a campus environment that Eisele calls refreshing. He says, "Our students are engaged and confident. When you walk through a lot of other college campuses, students don't look up from their cell phones or take out their ear buds. At Hampden-Sydney, they stop and say hi, shake hands, and introduce themselves."
Eisele comes to H-SC from his own alma mater, a small liberal arts college in Illinois that shares many similarities with Hampden-Sydney. One distinct difference between Knox College and H-SC, however, proved to be another draw for Eisele. "Because Hampden-Sydney is an all-male institution, we get to fully concentrate on just ten teams," he explains. "That frees up a lot of time to invest in the student-athletes' lives, travel with the teams, attend more home games—and not just the high-profile sports like football and basketball."