On February 8th and 9th, Hampden-Sydney College's Ethics Bowl Team traveled to Marymount University in Arlington, Virginia, for the annual debate tournament hosted by the Virginia Foundation for Independent Colleges (VFIC).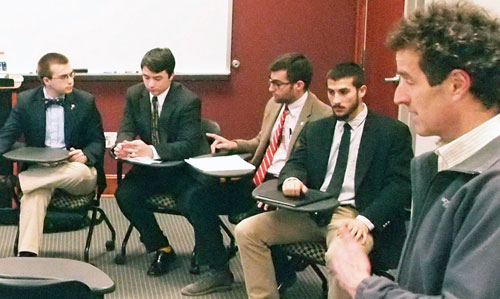 Liberal Arts schools from across the state send teams to engage in these competitive debates. Last year, the competition focused on the ethics of medicine, and this year the topic was the ethics of the family. Over the course of the two day tournament, teams face a total of four different opponents in debates revolving around a case-study that pertains to the central theme. Teams are asked to present a concise and cogent argument that outlines a solution. Judges then deliberate and select the team that offers the better argument. Historically, Hampden-Sydney's team has won the Ethics Bowl twice and come in second three times.

Preparations for the Ethics Bowl typically start early in the fall semester, beginning with the selection of the freshman member. Membership is a four-year commitment, and every year a new freshman who demonstrates excellence, both inside and outside of the classroom, is chosen to join the team roster. The process of selection involves interviews with the candidates in which current members of the team stage a mock tournament session. Candidates must read a case study containing an ethical dilemma and, having little time to think of an answer, must then argue for a solution. Following all interviews, members of the team collectively decide who will join them.

The team practices intensely three times a week to become comfortable with thinking thoroughly and speaking clearly under pressure. In addition to formal practice, the team occasionally meets with the Ferguson Public Speaking Center staff to receive feedback and constructive criticism on their style, strategies, and manner of presentation.

Members of the Union-Philanthropic Literary Society (UPLS) also go head-to-head with team members in two mock Ethics Bowl rounds. This practice session is judged by members of the faculty and staff, who provide feedback and last-minute pointers.

According to team captain and senior, Ryan Rivas, "The team works extremely hard in preparation for the tournament with the hopes of once again returning to the spotlight and winning the tournament."

This year's Ethics Bowl Team consists of (left to right) Will Echols '17, Sam Melson '18, Will Brantley '16, and Ryan Rivas '15. The team is coached by Dr. Patrick Wilson (left), Professor of Philosophy.
Washington and Lee University's student team won the championship and the Batten Trophy this year. Randolph College competed against Washington and Lee University in the final round and was declared the runner-up.