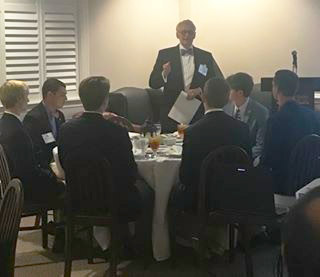 Each Fall, Hampden-Sydney students have the opportunity to attend an Etiquette Dinner led by the College's own Tommy Shomo '69, master of etiquette and author of To Manner Born, To Manners Bred.
Shomo leads students through the ins and outs of the dining experience—from traditional elements like the utensils used in a formal dinner to modern questions such as what to do with your cell phone. Donned in business attire, the group listens as Shomo explains the do's and don'ts of silverware and conversation. When the presentation is over, they put the lesson into practice over a five-course meal.
In addition to learning the logistics of a formal dinner, students get the opportunity to network with local alumni and employers at the Etiquette Dinner. "It's important to realize that a meal during an interview is not for the purpose of eating, it is to continue the relationship-building process. One is expected to navigate eating while maintaining a conversation," notes Stephanie Joynes, director of the College's Ferguson Career Center.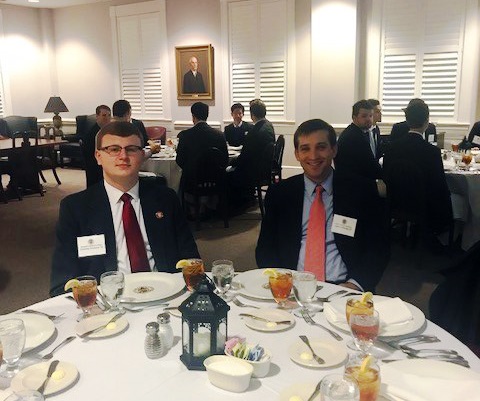 While knowing which fork to use may seem old fashioned, etiquette is not—being polite never goes out of style. As Shomo says in his book, "Good manners make our own lives and the lives of others more pleasant." Proper etiquette shows that one has respect for others and leaves a good impression in the interview process.
The dinner is just one piece of the Ferguson Career Center's mission to educate and prepare young men by providing a place to experience real world situations. At the Career Center's events, students can ask questions and even make mistakes before they have the high stakes of a job on the line. The Career Center focuses on the entire process of launching a career from resumes, to mock interviews, to salary negotiations and beyond. This comprehensive approach to career education has proven to be successful, as evidenced by the Wall Street Journal ranking Hampden-Sydney in the top-10 schools nationwide for career preparation.
Students can further their career preparation by attending the upcoming Professional Develop Institute, February 16-18 or by scheduling an appointment with the Ferguson Career Center staff.