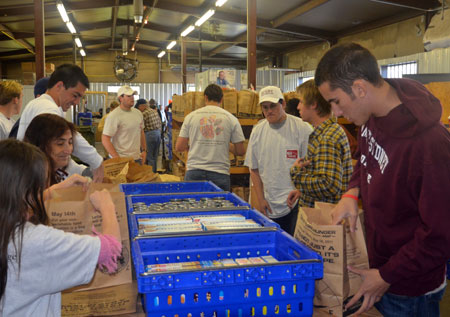 On Monday, March 2, Hampden-Sydney College will present award plaques to the teams with the highest, voluntary participation in raising money for Farmville Area Community Emergency Services (FACES). The goal to raise more that $700 was greatly exceeded as the College collected over $1,000. According to the President of FACES, Dr. Ellery Sedgwick, that is enough money to purchase 1894 pounds of food.

This fundraising competition ran for five days in December and was inspired by a philanthropy course taught by Dr. Saranna Thornton, Professor of Economics and Business, and featured two levels of participation: academic and administrative departments and student organizations. The two teams with the highest percentage of participation were the Department of Academic Success (staff) and the Union-Philanthropic Literary Society (students).

In describing the course, Dr. Thornton says, "I teach the class at H-SC is through the Wilson Center as part of their mission to promote public service. We partner with 7-8 local not-for-profit organizations every year. Students work in pairs, as apprentices, for four hours a week during the fall semester. The first four weeks of the class the students mostly work on client services for their organization. The next four weeks they work mostly on administrative functions, including recruiting and managing volunteers, communication with donors, attending board meetings, etc. The last four weeks of the semester the students write grant proposals on behalf of their organization for some or all of $10,000."

This course is sponsored by the Learning By Giving Foundation (LBGF) founded by Dorris Buffet. The organization's goal is to teach the meaning and impact of philanthropy to undergraduates, and courses supported by the LBGF can be taught in any discipline.

Senior, Justin Parker and junior, Blamoh Nagbe worked together, in this course, and created the idea of the FACES Cup. Parker said, "I think this event helped educate Hampden-Sydney at all levels about the extent of need in our community." He went on to explain that, "Above all else, my experience as a child inspired me personally to become involved with FACES. When I was younger, my family suffered through hard times, and often had to depend on the generosity of the community food banks to get by. By helping out FACES, I hoped to, in some small way, pass this kindness forward."

Hampden-Sydney's involvement in FACES goes back to 1981 when the former pastor of College Church, the Rev. John Rice, helped found the organization. Professors Dr. Kenneth Townsend, Elliott Professor of Economics and Business, and Dr. George Bagby, Elliott Professor Emeritus of English, also served on the original board.

FACES is a truly significant organization in Prince Edward County where nearly 20% of the community needs some form of food assistance; it serves approximately 1009 people, weekly. Distributions are every Saturday, 8-10:30 a.m. at 314 N. South Street.