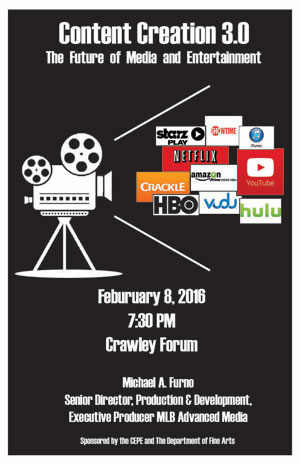 On Monday, February 8, Hampden-Sydney College will host Michael A. Furno for a discussion entitled "Content Creation 3.0: The Future of Media and Entertainment".
Michael A. Furno is the Senior Director of Production and Development for Major League Baseball Advanced Media. His interests and talents are diverse and include co-authoring a graphic novel titled The Minions of Ka, and writing and directing the documentary "UnConventional".
Furno is also the writer, editor, director, and producer of "Shorty", a film that covers the 2002 Hampden-Sydney Football Team. The documentary tells a compelling story of a beloved fan, Walter Simms, and the team's hard fought search for the playoffs.
The event, sponsored by the Center for Entrepreneurship and Political Economy and the Department of Fine Arts, will take place at 7:30 PM in Crawley Forum. Light refreshments will be served.