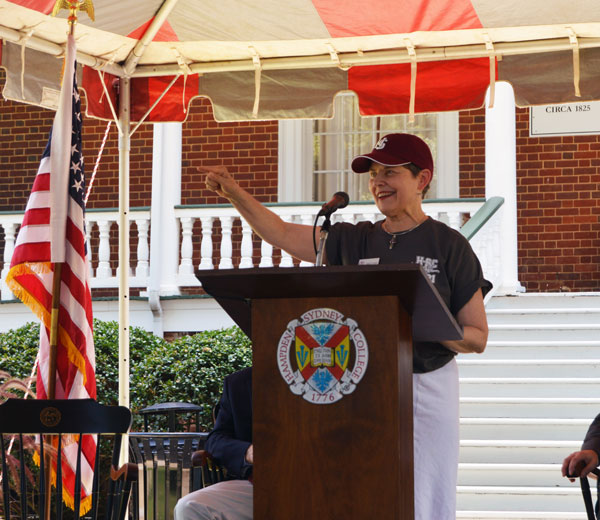 It is with the deepest gratitude and admiration that Hampden-Sydney College announces that Anita H. Garland is retiring as dean of admissions after nearly 40 years of service to the College. Hampden-Sydney is immediately launching a search for an individual to lead the office of admissions and financial aid. Dean Garland will remain in her role until the College names a permanent successor.
"I have treasured every moment of my time in admissions at Hampden-Sydney College, and I cherish the relationships that I have built here," Garland said. "They have enriched my life beyond measure."
"Perhaps more than any other individual in the last 50 years, Anita Garland has shaped the story of Hampden-Sydney College," said President Larry Stimpert. "She has touched the lives of nearly every student to enter these gates during her years of service, and even many of their parents. We will forever admire the enthusiasm she brought to her work, her eloquence in sharing the College's story, and the personalized touch with which she has introduced so many young men to the distinctive greatness of Hampden-Sydney. Many a student has shared with me the impact that a handwritten note from Anita had on his decision to attend this College."
Hired by President Josiah Bunting III in 1980, Garland served as associate dean of admissions and director of admissions until President Samuel V. Wilson named her dean of admissions in 1996 following a national search. In addition to a B.A. from Westhampton College, Dean Garland holds an M.B.A. from the Virginia Commonwealth University School of Business.
"I recall many changes during my time—from Stokeley Fulton's sitting on a bucket as he watched his team on the baseball field, to the wonderful Ty Cobb Ballpark," Dean Garland said. "From the food fights in Winston Hall, to the spacious Pannill Commons. From a student center in Graham Hall to the lovely Brown Student Center. From typewriters to computers; from paper documents to digital ones; from a central switchboard to cell phones. But the students have always stayed the same—perhaps with different toys (from low tech to high tech)—but always with politeness, earnestness, and an eagerness to please."