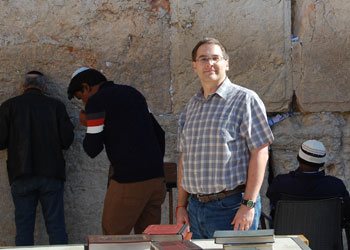 Dr. Marc Hight has returned from nine days in Israel, during which he lectured at two leading institutions. He gave a post-doctoral fellow seminar at the Van Leer Jerusalem Institute, a center for the interdisciplinary study of issues related to philosophy, society, culture and education. He also gave a paper at the Edelstein Center for the History and Philosophy of Science at Hebrew University.
While in Israel, Dr. Hight took the opportunity to visit many notable sites, such as the Dead Sea, the Western Wall in the Old City of Jerusalem (seen at right), the Temple Mount, The Church of the Holy Sepulchre, the Roman amphitheatre at Caesrea, and the Ba'hai Gardens in Haifa.
Dr. Hight is the Elliot Professor of Philosophy whose areas of expertise include the work of George Berkeley, metaphysics, and philosophy through science fiction literature. He has a Ph.D. from Syracuse University and has taught at Hampden-Sydney College since 2001.