JD Chaudhry '16
On Wednesday, March 16, the Fuqua School 8th Grade Science Fair took place on the physics floor of Gilmer Hall. The event was a collaboration between the Beta Chi Chapter of Alpha Chi Sigma at Hampden-Sydney, the Society of Physics Students, the Pre-Health Society, the Chemistry Club and Fuqua School. JD Chaudhry, class of 2016, along with Sean Walden, class of 2018, approached the science staff at Fuqua over winter break to plan a science-outreach activity. We found out that Fuqua generally hosts a science fair in March, so we were able to convince them to have the event at Hampden-Sydney College.
Mr. Aaron Green, science teacher for Fuqua Middle School, brought 21 eighth graders to Gilmer Hall at 4 p.m., and the students set up their posters and projects in Gilmer 005 and Gilmer 022. The Fuqua students, parents, and staff were then led outside where Dr. Stan Cheyne, professor of physics and astronomy, James Dargan, Class of 2016, and Mr. Robertson, physics and astronomy laboratory technician presented three physics demonstrations to the audience: "Crush the Barrel", bottle rockets, and the potato gun used to explore a watermelon. After the science demonstrations, the audience was led back onto the physics floor, where the Science Fair judges were introduced and the Fair began at 5 p.m.
The judges for the Science Fair were Dr. Cheyne; Dr. Heidi Hulsizer, professor of mathematics and computer science; Dr. Kristian Hargadon, professor of biology; Jefferson Thompson '16, chemistry and biology major: Joshua Taylor '16, physics and economics major; Robert Harriss '16, physics and biology major; Josh Dimmick, science and upper mathematics teacher at Fuqua, and Connie Hicks, science and Latin teacher at Fuqua.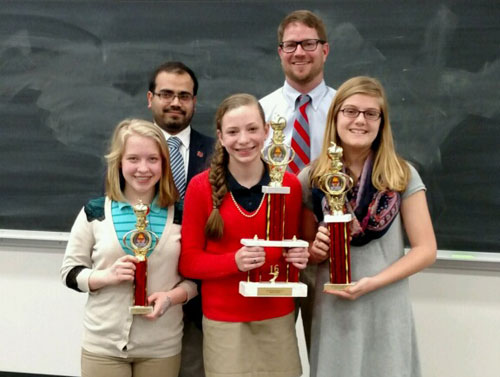 Judging began in Gilmer 005 where 12 students were stationed with their tri-folds and other materials. Students were judged based on project content, delivery, and visual presentation. After each student had been reviewed by three different judges, the judges moved to Gilmer 022 where nine students were stationed with their projects. After the judging was completed, everyone was moved back into Gilmer 019, where the winners were announced. The winners were Mary Katherine Kendall, 1st place, Audra Murphy, 2nd place, and Hannah Cook, 3rd place. (pictured with Chaudhry, left, and Aaron Green)
The Beta Chi chapter of AXΣ wanted to host the Fuqua 8th Grade Science Fair at Hampden-Sydney College to further STEM teaching and learning within the larger community surrounding us. To continue this mission, we are hosting Geek Week Science Demonstrations on Friday, April 1, from 5-7 p.m in Gilmer, to which we have invited the Fuqua Schools' and Prince Edward County Schools' students, parents, and faculty.