Eighteen students in Dr. Greg Dempster's Entrepreneurial Thinking class took part in the IDEAS Competition, pitching potential businesses to a panel of experienced professionals and hoping to be accepted into next Spring's Tiger's Den, a competition that could lead to a $15,000 investment.
Tate Socha '18 and Luis Torres '18 pitched Fully Stocked, a service that stocks vacation rentals with prerequested foods, drinks, and necessities. Tate says, "Luis and I had developed our business plan by the fourth week of class and had been tweaking it all semester, so we weren't daunted by making the pitch. We saw it as practice for all of the pitches we know we'll be making in the years to come. We practiced a lot in the days prior to the competition, so we could go in comfortable and confident."
"That's what this process is all about," says Dempster. "Whether or not the students actually end up with an operating business, they are all learning about the process by taking part in the process, by creating a business plan, by pitching investors, by answering the tough questions, and by repeatedly going back to the drawing board."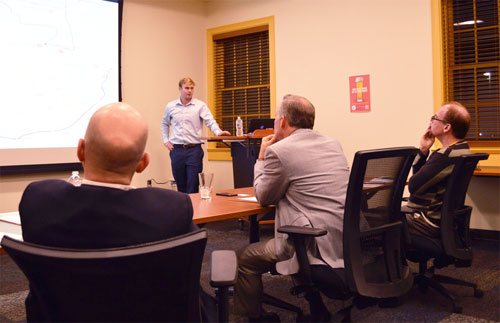 The IDEAS Competition is a dry run for next semester's Tiger's Den, when they compete for real money—and the competition is tough. Not only are Hampden-Sydney students eligible, but also Hampden-Sydney College alumni from the Classes of 2013-2017. The winners of Tiger's Den will be offered an investment from the Hampden-Sydney Venture Fund.
Hampden-Sydney College has held Tiger's Den competition for years, and some of the competitors have gone on start successful businesses. William Correl '13 pitched a cider company to the Tiger's Den during his senior year. He now owns and operates Buskey Cider in Richmond's popular Scotts Addition neighborhood. Adam O'Donnell '12, another alumnus of the program, has founded numerous companies, including Buzz.Report and Successly.
Students and alumni interested in competing in the Tiger's Den can find details online.