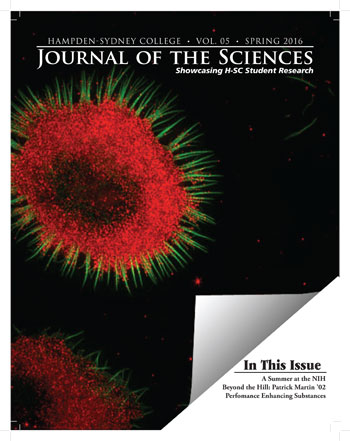 The Journal, offered in both print and electronic form, is listed with the Library of Congress. It has evolved over its short lifetime, now containing a feature section that appeals to general readers with backgrounds outside of the sciences. Topics in this section can vary, but this year they focus on performance enhancing substances. Since offering the Journal in print form, recognition has grown substantially. At this point, the Journal can be selective in their standards for publication.
Dr. Wolyniak plans to continue the evolution of the Journal by formalizing the process of becoming a scientific writer. His hopes are to include the Journal as in independent study offering that teaches students the process of writing for academic journals and other research publications. This opportunity would provide Hampden-Sydney students a significant advantage as they will graduate with published articles and experience in their field.
This year's research articles include topics such as ESR Characterization of Induced Reaction Oxygen Species: The Antibiotic Mechanism of Actin Controversy, Mutational Analysis of TEP1, a Budding Yeast Homologue of the Human Prostate Cancer Factor PTEN, Keeping Up with the Investigation on Invasives, Microwave Optics: Analysis of a Cubic Lattice with Bragg Scattering, and Manipulation of Self-Efficacy in Participants with Incremental or Entity-Implicit Theories of Knowledge. The issue was edited by Travis B. Goodloe '16 (Editor-In-Chief), Shaquann S. Seadrow '16 (Editor-In-Chief), Dane R.C. Asuigui '16, P. Tazewell DelDonna '17, Brian N. Hulsizer '16, Reuben P. Retnam '17, and Joshua D. Taylor '16.
You can read the latest issue and catch up on news from the science departments online.
Pictured (left to right): Joshua Taylor '16, Tazewell DelDonna '17, Shaquann Seadrow '16, Dane Asuigui '16, Travis Goodloe '16, and Brian Hulsizer '16