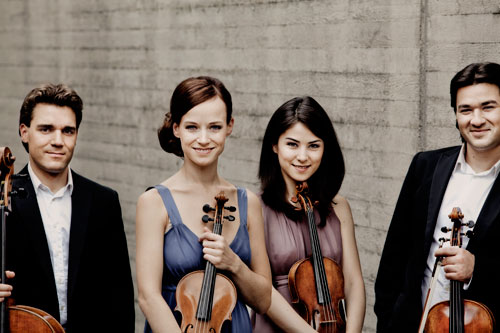 On Thursday, April 7, experience the wonder of the Minetti Quartett. Their program will contain the music of Haydn, Schubert, and Beethoven.
Hailing from Austria, Minetti is a string quartet that has performed all over the world including London, Amsterdam, Barcelona, China, and Australia. Founded in 2003, they have shot to the limelight of the classical scene and won many awards in the process. The quartet, which consists of Maria Ehmer on violin, Anna Knopp on violin, Milan Milojicic on viola, and Leonhard Roczek on cello, is a sensation. The Washington Post says that the "spectacularly talented Minetti String Quartet ...boast thoughtful interpretations, beautiful ensemble work, crisp articulation and flawless technique."
They have worked closely with the pianist Till Fellner, and also with other musicians such as Thomas Riebl, Friedemann Weigle, Alois Posch, Martin Fröst, Paul Meyer and Fazil Say. They have also been active as performers and tutors at the "Sonoro" chamber music festivals in Cuernavaca, Kuhmo, and Madrid. Some of their most influential teachers and mentors of the quartet members were Johannes Meissl, Hatto Beyerle and the members of the Alban Berg Quartet, and they have received valuable artistic stimulus from the Artemis Quartet and members of the European Chamber Music Academy (ECMA), the Amadeus Quartet, the Quatuor Mosaïques and the Hagen Quartet.
This event, sponsored by the Hampden-Sydney College Music Series, is free and open to the public. Join us at 7:30PM in Crawley Forum. The series is part of Hampden-Sydney's continuing commitment to the intellectual and cultural enrichment of the Southside community.