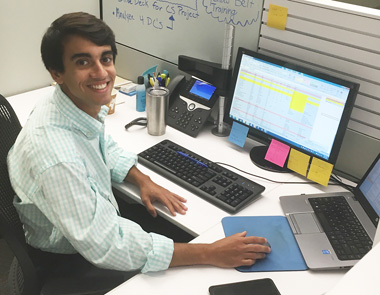 Familiar faces are everywhere, as is the case with Caleb Mize '17 who ran into a Hampden-Sydney alumnus, Kyle Clark '13, at Caleb's internship this summer. Caleb is working in financial planning and analysis at McKesson, a pharmaceutical distributor and healthcare information technology company.

As a financial analyst, Caleb works on operating expenses and performs cost savings analysis. "The work ethic that has been engrained in me at Hampden-Sydney has been helpful, as well as team building that I learned in the classroom."
McKesson is ranked fifth on the Fortune 500 list, and the students with internships at the company often come from large state schools. That hasn't stopped Hampden-Sydney from being represented, however, with both Caleb as an intern and Kyle as an accountant. "They are aware of Hampden-Sydney and our culture," according to Caleb.
Caleb is an economics and business major entering his senior year this fall. When he graduates, he hopes to use his experience to enter the healthcare industry full time.