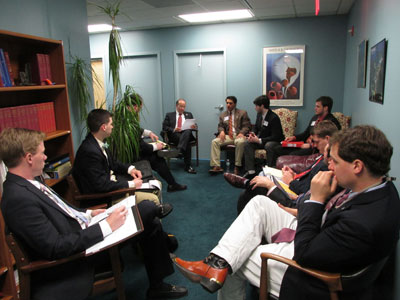 From March 21-25, nine Hampden-Sydney students participated in the Model Organization of American States in Washington, D.C. The Model, held annually, is an introduction to the politics of the Western Hemisphere and allows students a chance to interact with groups from across the U.S. as well as half a dozen other countries.
Hampden-Sydney's team, which represented Panama in five different committees, spent the semester learning about a variety of topics, including the OAS itself, Panama's history and foreign relations, Roberts Rules of Order, and the Zika virus. Once they arrived in Washington, the students split into different committees and began representing Panama as delegates to the OAS. Each committee had its own themes and each delegation had to present and defend a Proposed Draft Resolution along the lines of what its country might propose at the actual OAS. Hampden-Sydney's students did well, as each of their five resolutions passed and all students played a role in lively discussions.
One of the most rewarding experiences of the Model was an opportunity to meet with professional diplomats. The students met with Panama's Ambassador to the OAS on Tuesday, March 22nd, and they were able to discuss their resolutions with staff at the nation's Permanent Mission to the OAS. This chance to meet with professionals shaped the experience for Hampden-Sydney's students, who were able to fine-tune strategies for defending their resolutions and responding to the Model's Crisis Scenario.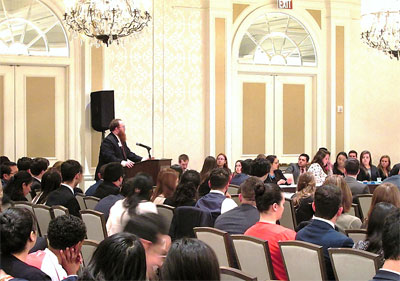 All students also had the opportunity to participate in a Diplomatic Social on the night of Wednesday, March 23rd. Model participants got together in the Hall of the Americas, in the OAS Building, to dance and share light snacks. Students from across the United States, as well as a few groups from Argentina, Canada, Colombia, Ecuador, Guatemala, Mexico, and Venezuela, kicked off their business attire and celebrated for a night.
On the last two days of the Model, committees elected officers for next year. Hampden-Sydney's Edward Robinson '17 was elected as Vice Chair of the Third Committee for the 2017 Model. Alex Abbott '17 was also elected to a position, and will serve as Vice President of the 2017 Model. While these two students went above and beyond the requirements of the Model, the entire class did a great job, with positive feedback coming in from other students and faculty advisors.
Dr. Ken Lehman of the history department and Dr. Jana DeJong of the Spanish department served as faculty advisors for the team this year. Both sat in on committee sessions and took photographs, and their input was invaluable for the team in preparing for the Model. Dr. Lehman will lead the class again next year, and both Abbott and Robinson will serve as part of the Model's Secretariat.