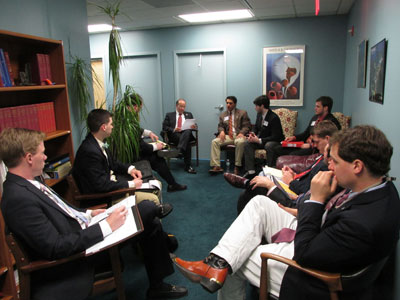 Students at the Model Organization of American States in Washington, D.C., this week are now meeting in committees and getting first-hand experience in international negotiations. Salvador Benitez '16 and Nick Browning '17 say their committee, Hemispheric Security, was passing resolutions without much controversy and moving efficiently through its agenda by the end of the third day of the conference. However, the mood changed when the United States tried to impose its point-of-view on a resolution that did not sit well with a majority of the member states. Benitez says, "After much debate and heated discussions, the resolution did not pass and the tension in the room was high."
Thankfully, the attendees' spirits were lifted that evening; the Model held a gala at the OAS building featuring live music, food, and dancing.
Browning says, "Wednesday was a great day and it is unfortunate to be heading into the last two days of the conference."