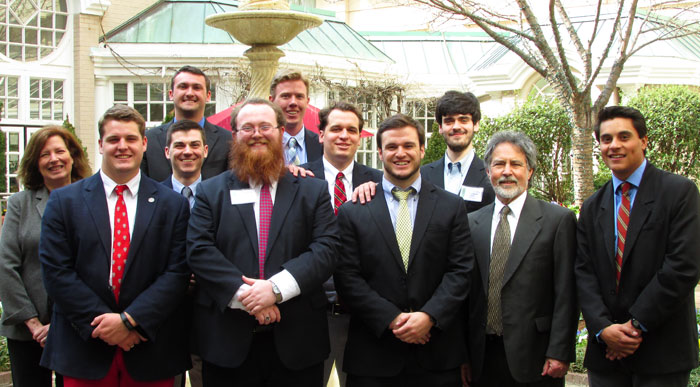 Nine Hampden-Sydney College students have joined students from 26 colleges and universities from across the country this week at the 2016 Washington Model Organization of American States. Hampden-Sydney's delegation is representing Panama and, upon arrival Monday, began networking and garnering support for its resolutions. All of the attendees gathered for comments by Dario Pereyra of the WMOAS Council; Ambassador Jacinth Henry-Martin of St. Kitts and Nevis; and Dr. Joan Andorfer, President of the Institute for Diplomatic Dialogue in the Americas. Everyone was full of hope and excitement for the Model, and the first day went well as the Model's officers began addressing participants and laying out ground rules for the Model. At the end of the day on Monday, the Model organizers announced the crisis scenario, which involved a diplomatic faux pas following the Zika virus's spread in Brazil. Everyone at the Model finished the day excited for the rest of the WMOAS. That evening the Hampden-Sydney team met with several alumni of the WMOAS and H-SC (Dereck Parada '12, Joey Tritico '12, and Hunter Gibson '15) for dinner at a local Peruvian restaurant.
On Tuesday, the delegation met with the Panamanian Ambassador to the OAS, Jesus Sierra Victoria. Alex Abbott '17 says, "The class presented individual Proposed Draft Resolutions to the Ambassador, and received input as to how he believed Panama would handle each individual resolution. The Ambassador told us the Panama Canal's neutrality is paramount in any sort of litigation in the OAS. Committees met in the afternoon with many resolutions being debated, amended and passed, including a Panamanian resolution on creating a "Conference to Enhance Cooperation of Member States in Preventing and Eradicating Human Trafficking through Means of Social Media" presented by Salvador Benitez '16 and Nick Browning '17.
The students attending WMOAS are Alex Abbott '17, Ben Bardill '16, Salvador Benitez '16, Nick Browning '17, Joseph Fox '17, Sam Johnson '16, Kevin Keena '16, Nick Palmer '16, and Edward Robinson '17. Their advisor is Dr. Kenneth Lehman, Squires Professor of History.