The Outsiders Club is seeing a major resurgence among the student body. First organized in 1968, the club - one of 60 plus student clubs on campus - has had varied interest throughout its existence. Just two years ago the club had about 20 members. During Picnic on the Point, an annual student engagement fair on Chalgrove Point, 118 new interested students signed up for information and updates, which puts their potential membership at close to 100.

The growth likely stems from the club's effort to be more approachable. While the club is for members of the Hampden-Sydney community who have interest in the out-of-doors, the leadership is trying to expand their influence by making outdoor activities more accessible to those who may not have participated in the past. According to the club's president, Conrad Brown '17, "We want to open outdoor activities to people who don't typically get involved. We want people to feel included and to have fun."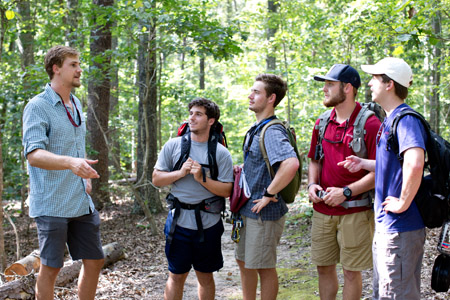 There are plenty of opportunities for students to get involved with the club. There is an event planned for almost every weekend - 11 total this semester alone. The events planned will include a return to the club's roots - two semi-professional events that will function as mini-classes on topics such as knots and fire making led by Dean of Students David Klein '78 and Director of Residence Life John Ramsay '05. These classes will teach the students practical skills that can be used on their trips and throughout life.
In addition to the teaching assistance of the Student Affairs staff, the office also provides other resources. There are tents, camping essentials, kayaks, and canoes available to borrow free of charge to students on campus. This service ensures that even those who are starting their journey as an outdoor enthusiast are not hampered by a lack of equipment.
"There's more to do at Hampden-Sydney than go to fraternity parties. Some students are looking for other options, and they definitely exist. You don't have to sit in your dorm playing X-Box," says Conrad. "Our club is about fun. It has been such an escape and a stress release for me."
According to the club's mission, the heart of the Outsiders Club is its leaders. It's evident that is the case when you meet their current president, who has made it his personal mission to reach out to students. Conrad, who also serves as a Head Resident Advisor (RA), is dedicated to making a difference during his time on the Hill. "When you make friends with freshmen, after a while they grow to respect you. The next year, they come back to tell you that you are the reason they came back the next year. It's powerful to hear."
The Outsider's Club will take its first adventure of the semester this weekend to Piankatank River, located between the York and the Rappahannock Rivers in Virginia. They will paddle downriver from there to Berkley Island, a small 12 acre island where they will camp for the weekend.