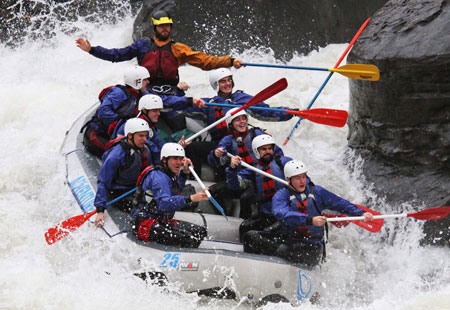 The Outsiders Club recently went on a trip to McAfee Knob on the Appalachian Trail in Roanoke, VA. McAfee Knob, an 8-mile hike, is one of the most photographed spots on the Appalachian Trail. The gorgeous weather lent to excellent visibility of the 270° panorama views, overlooking the Catawba Valley and North Mountain to the west, Tinker Cliffs to the north, and the Roanoke Valley to the east. Pictured from left to right are Brandon Solmonov '18, Cecil Tiblin '18, Allison Justus, Josh Elliott '18, David Zwick '18, Luke Bloodworth '18 (hammock), and Traylor Nichols '17.
The Outsiders Club, first organized in 1968, is open to all members of the Hampden-Sydney community who maintain an active interest in the out-of-doors. The heart of the Outsiders Club is its leaders, whose goal is to raise awareness of outdoor activities and to organize and conduct outdoor trips for the college community.
Luke Bloodworth '18 is currently Vice President of the Outsiders Club and says he has seen first-hand how the club, which was an instant attraction for him, is important for the college. "The skills, experiences, memories, and friendships that develop off campus only build an even stronger sense of community on campus. Additionally, the activities that the club provides allows for students to unwind and relax from the academic rigor that Hampden-Sydney expects of its students." The club currently has about 60 active members who plan to take many more trips this semester, including white-water rafting, skiing, and rock climbing.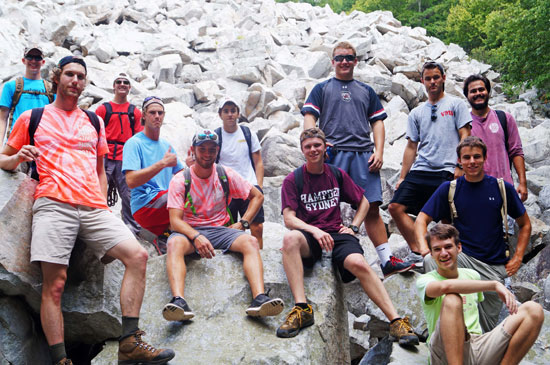 (Photos courtesy of Luke Bloodworth '18)