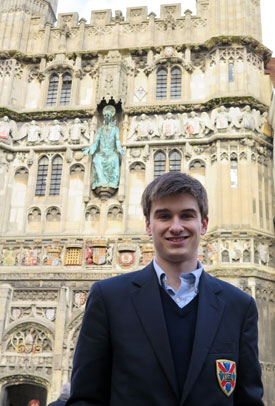 It is near the end of Hilary term at Oxford, and I thankfully have made it through the Fifth Week "Blues." Fifth Week is generally the most intense week of every term from the sheer number of assignments. My work continues to focus on maths at St Edmund Hall. I currently have tutorials in further linear algebra, groups and group actions, and vector calculus. Vector calculus remains my personal favorite because of the mix between calculation-type problems as well as analysis and proofs. Though I find that the workload this term is heightened in comparison to last, I am still enjoying my time at the Mathematical Institute.
The Oxford Union has also provided a great experience. Recently, I became a member and have since attended a number of events. The Oxford Union regularly hosts notable speakers from all professions and backgrounds, and two of the most interesting to me, so far, have been the Reverend Al Sharpton discussing whether the United States is institutionally racist and London Stock Exchange Group CEO Xavier Rolet examining consumer confidence in markets. Comedians, singers, actors, businesspeople, politicians, and celebrities alike share their views at the Union to provoke and encourage thought. Much like the Center for Entrepreneurship and Political Economy there on campus, the Union adamantly asserts that it does not matter what one thinks so much as that one is thinking.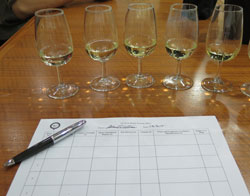 I continue to remain active in the Oxford University Blind Tasting Society. But unlike last term, the Hilary term has found the society much more competitive. I soon will represent Oxford at the Millésime competition in Lausanne, Switzerland. Five of us will attend Millésime in hopes of winning the most points for Oxford, the returning champion of the competition. We earn points for identifying the grape variety, region, sub-district, vintage, and distinctive tasting notes that describe the acidity, sugar levels, tannins, oak presence, body, and alcohol. To prepare for the taste-offs, the Society hosts roughly three tastings a week with usually twelve wines: six red and six white. What I think is so interesting about blind tasting is how much of a challenge it provides. Distinguishing between a 2003 or a 2004 and a Cabernet Sauvignon or Pinot Noir requires a lot of memorization, and I think that there are few more gratifying feelings than receiving full marks on a tasting.
With all of the teams and societies that Oxford has to offer, it is hard finding the time to do it all. Oxford has been a smashing place to spend the past five months, and I look forward to what the remainder of the year has in store.