Dr. Julia Palmer can be found in her office on the third floor of Bagby, surrounded by beautifully arranged objects and books — an homage to her background, students, and profession. Students and colleagues pop in periodically with questions or to ask for advice; enthusiastically, she provides an enlightening and thought-provoking discussion on origins, transformations, and use of language.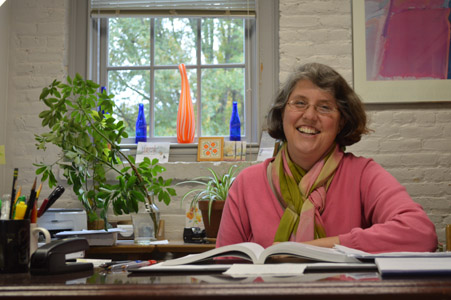 Dr. Palmer, a linguist and an associate professor of modern languages at Hampden-Sydney grew up in South America and holds degrees from the University of Virginia and the University of Michigan. In graduate school she studied the development of Spanish from Latin; now, she focuses on both historic and socio linguistics.
As a professor, Dr. Palmer feels it is her duty to be active in the community. One of her chosen methods of community service is a series of language articles entitled "Watch Your Language" in the Farmville Herald. Topics range from Appalachian English, to apostrophe use, to the evolution of language.
Her goal for the series is to raise awareness of language complexity so that one can see the fascinating details surrounding the topic. She also wants to confront the many myths and misconceptions people often have about language.
According to Dr. Palmer, "language is a vehicle for the transmission of culture." She urges her students not to use the terms "good" and "bad" to describe language, but standard and non-standard. Decisions about standardization are historically based on money and power and, as such, can change. Language, in both standard and non-standard forms, is constantly evolving.
Each article, bursting with personality, offers insight into the background and misuse of language, complete with a quiz at the end. Dr. Palmer likes to use the articles to explore various topics of interest and to stretch herself while practicing her writing skills. The series has received overwhelmingly positive feedback from readers.
An example of her work can be found in the Farmville Herald.