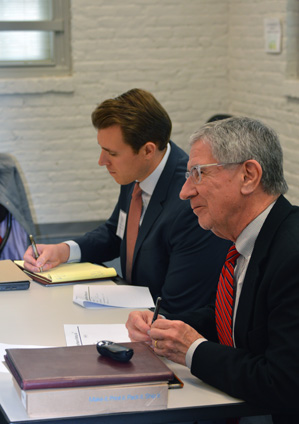 Each January, just prior to classes resuming, the Career Education Office hosts the Professional Development Institute. The PDI is a 2-day event in which students participate in a variety of professional development activities, including a recruiter panel, industry roundtables, breakout sessions, a formal dinner, keynote speakers, and networking with Hampden-Sydney alumni, peers, and friends of the College.
A crowd of almost 50 students gathered January 15 and 16 to take in the advice of alumni and friends of the College from varied backgrounds. Advice included specific suggestions, from sending handwritten thank you notes that include a specific detail from a particular conversation to the importance of punctuality. In addition, the professionals offered broad guidance that can be implemented in many career paths. They strongly encouraged the students to be genuine and to remember that it is their responsibility to serve the employer.
Based on what he learned at the PDI, Jack Dawson '18 plans to alter his approach to interviews and social media. He said, "I will be more aware of my social media use and privacy settings, now and in the future, because I didn't realize the depth of employers' searches." The Institute provided introspection for students and alumni alike. During lunch, Chris Fallen '94 reminisced on his time at H-SC and offered advice to the students eagerly listening. "The school gave me a lot, which I underestimated when I first got out. I wanted to come back today because Hampden-Sydney has a lot to offer. The students that gravitate toward the process and learn will benefit hugely in the business world," Fallen explained.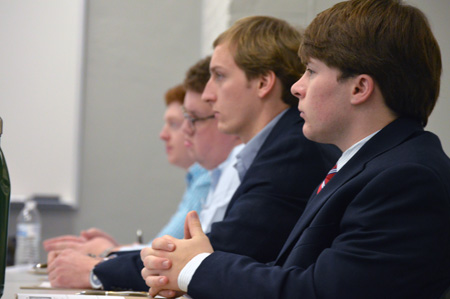 The value of a Hampden-Sydney education was a popular theme throughout the day. The Rhetoric Program in particular was praised consistently for preparing Hampden-Sydney men to communicate effectively in the workplace. Many of the alumni participants also mentioned the reputation of integrity and character associated with the College, and urged the students to uphold that legacy as they begin their careers.