From The Record, January 2016
On December 7, 2015, Richmond Magazine declared that the capital city had just lived "in the year of the bicycle." This past September, Richmond hosted the UCI Road World Championships, a nine-day international competition between the world's fastest national cycling teams, and the city is currently investing millions of dollars in the construction of more cycling infrastructure, such as paths and bike lanes, to support the burgeoning interest in the two-wheeled conveyance.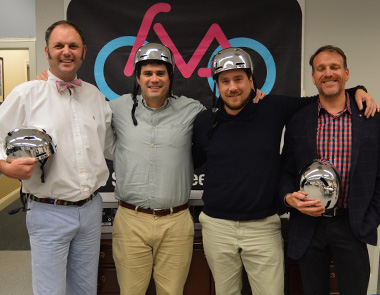 In the thick of this urban movement is pediatrician Dr. Scott Keel '02, who gathered five other Hampden-Sydney alumni to create I Am RVA, a non-profit charitable and educational organizationthat sells distinct and readily identifiable bicycle helmets to participants. Proceeds from the sales are funneled directly to local charities. Keel, Dr. Benjamin Gates '01, "Sir" Charley Gates '04, "The Honorable" George Cumming '89, Whitworth "Archbishop aka The Chief" Brooks '01, and Adam Stockton '99 sit on the board."
It's a bunch of Hampden-Sydney guys who got together with two or three outside board members to promote cycling, safety, and enthusiasm for the cycling culture, trying to help people lead healthier lifestyles-'be safe, be seen, and have fun'-that's our motto," said Keel. They rent out a business office near the University of Richmond-"the global headquarters" they call it-to meet up after work and plot their next strategies. Strewn about among their charts and pamphlets are piles of merchandise, oversized paddleballs, and other random trifles.
"We need a Ritalin prescription for the ADD,"joked Brooks.
In 2014, Keel sent an email to his buddies from the Hill. They had their first meeting in February 2015, and they spent the past year organizing and finding business partners and sponsors, filing paperwork to become a 501(c)(3), and building an online presence. They're bringing together their Hampden-Sydney backgrounds, their sense of community and charity and good citizenship, and pairing it with the business and entrepreneurial skills they acquired on the Hill. This past September they secured their first shipment of the 300 chrome helmets, and they were sold out within a couple of weeks.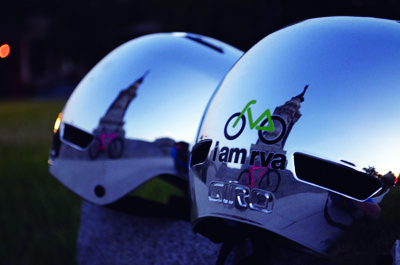 "It's a symbol of pride," Keel said of the helmets. "It's literally a reflection of who we surround ourselves with, are flection of where we are a sign of unity. But we're also big on safety. Everybody can see them. Sometimes the sun is setting, people have cataracts, and cell phones can be distracting. In Virginia we're not required to wear helmets, and we don't want to force people to wear them. That's why we worked so hard to make them stylish and make them part of the movement. We're trying to create the right incentives: a cool helmet found only in Richmond; supporting local non-profits; and discounts for members at local businesses." The helmet comes with a key chain mini-card that is accepted at more than 250 participating businesses.
The Hampden-Sydney cadre is expanding the movement. Three months into the launch they have more than 1,000 "Likes" on Facebook, and they are aiming for 5,000 by mid-2016. They're adding riders to their roster of volunteers, who will help with sign-ups, selling T-shirts, and spreading bike safety information at races and other community events. They're also working with Virginia Commonwealth University (VCU), which has produced market analysis studies that support their business model.
Right now the group is continuing the search for more corporate sponsors in the Richmond area, in the biking community, and among Hampden-Sydney alumni. With more sponsors they can acquire the helmets more cheaply so that more money goes toward the greater good of the community. Although they've only just gotten started, already they've donated two micro-grants of $1,000 apiece to those who have suffered traumatic brain injuries. The money will go toward improving assisted living, handicap ramps, and rehabilitation services that can cause severe financial burdens on families. It's all been a major undertaking.
As Keel concluded, "Having a group of guys who had Hampden-Sydney values instilled in them is what has made this happen."