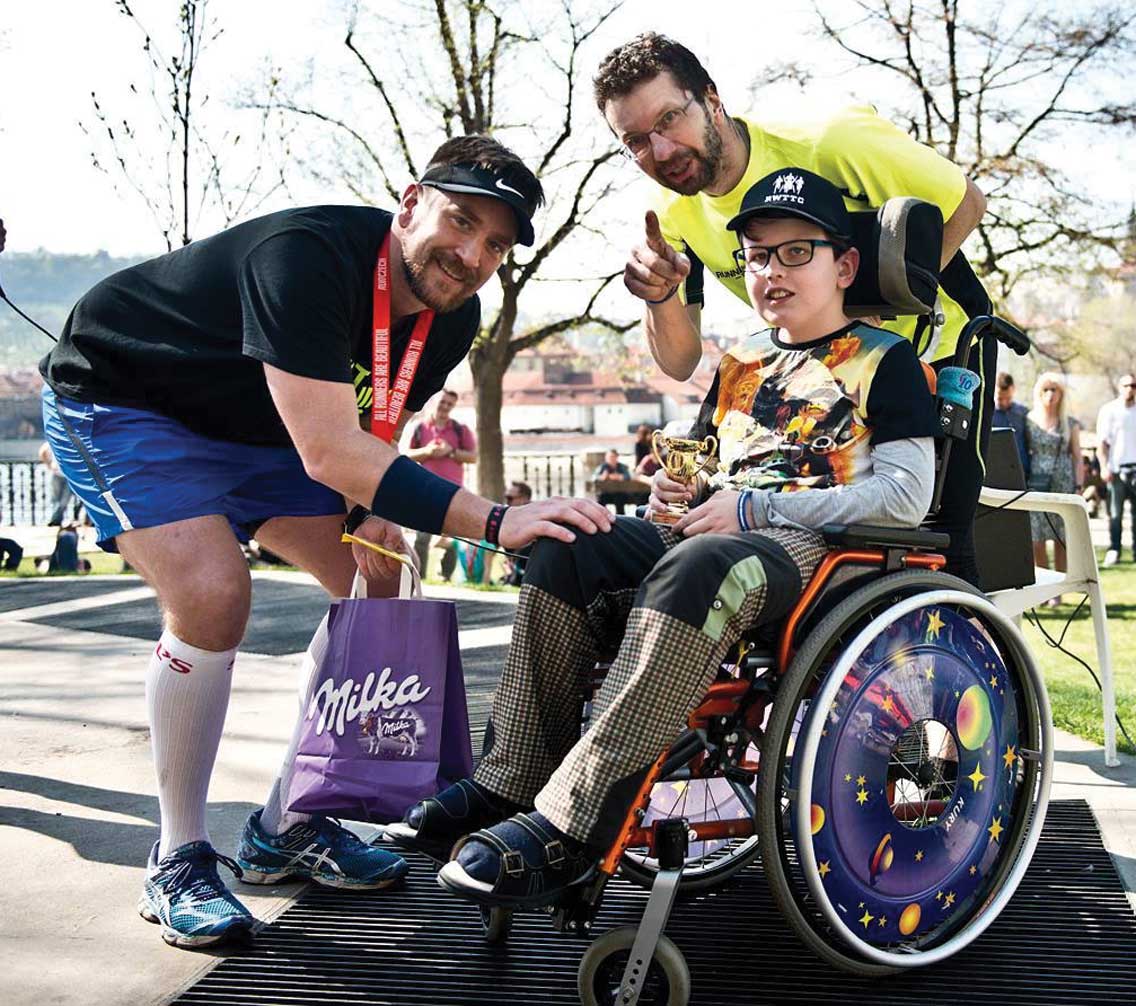 From The Record, April 2018
Now, Keel and his efforts are the subject of an upcoming feature-length documentary, The Road Less Run, which tells the story of Keel's friendship with a young Czech man living with cerebral palsy; together, they have run in dozens of races with Running With Those That Can't (RWTTC), the charity Keel founded in 2009 while he was a medical student in Prague. RWTTC gives individuals with physical, intellectual, and developmental disabilities the opportunity to participate in races by providing them with an adaptive stroller and a team of runners to support them. In doing so, RWTTC raises awareness of the challenges this population faces and increases their acceptance and inclusion in society.
Keel hopes the film will spread the charity's mission of inclusion by inspiring others to start similar groups in their own communities. He explains, "From the beginning, we tried to involve people from all over the globe in our races in Prague, to inspire them to go home and recreate the mission in their own way. We wanted to spread an idea, not an organization." And the idea has spread, both in Europe with events in Germany, Austria, and the United Kingdom, as well as in the United States, thanks to his Hampden-Sydney brothers. A chance meeting with Keel at an H-SC alumni event in 2010 inspired Bryan Mangas '06 to found Inclusive Racing, the non-profit that broke down the barriers for wheelchairs in the Richmond Marathon. Dr. Trey White '93 is also passionate about inclusion; as the founder and director of Team Hoyt VB, White helped bring inclusive racing to Virginia Beach in 2006.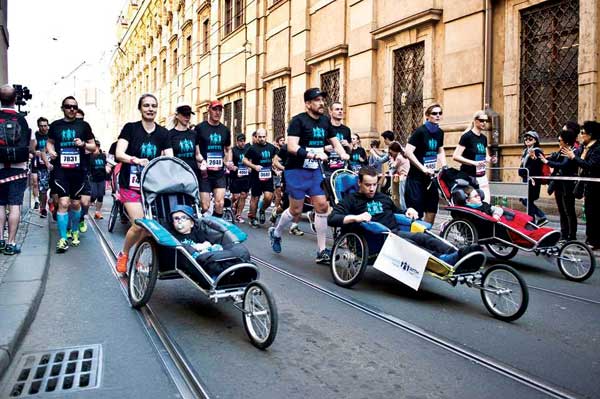 In fact, Keel says his time at Hampden-Sydney and the close relationships student enjoy with faculty and administration gave him the confidence to start the charity. "Because General Sam Wilson and Dr. Walter Bortz interacted with us so much, we were used to talking with people at the top of an organization," says Keel. "When I wanted to start an inclusive-racing charity overseas, it felt natural to seek help from the dean of the medical school and the mayor of Prague." The medical school donated the first two specialty strollers so disabled athletes could participate in the Prague International Marathon, and its faculty and students continue the charity's work—donating 14 wheelchairs in 2017—now that Keel has returned to the U.S. for his residency.
The path to a medical career was not direct for Keel. After he graduated from H-SC with an economics degree, Keel's passion for travel took him abroad for nearly 15 years. He lived in the Czech Republic for a decade teaching English, founding a crystal stemware company, and eventually attending medical school at Prague's historic Charles University. In between, he took humanitarian jaunts around the world—including to Thailand after the 2004 tsunami and New Orleans after Hurricane Katrina—and even competed in the Monkey Run, a 3,000-mile motorbike race through the jungles and deserts of Peru.
---
"We all have compassion in us; we just need to take the time to give it away rather than keep it to ourselves."
~Scott Keel '02
---
Keel says all of those experiences taught him about the necessity of human connection and the power of human compassion. "We all have compassion in us," says Keel, "we just need to take the time to give it away rather than keep it to ourselves." Whether it was helping international students from all over Europe connect with each other at medical school in Prague or working to integrate mental health services into pediatric care after returning to Richmond two years ago, Keel's efforts to connect with others have drawn attention. In 2013, he was awarded a national Czech philanthropic award as well as a service award from the Czech Parliament. And in 2017 he was named one of Richmond's "Top 40 Under 40" by Style Weekly for his pilot program mandating suicide questionnaires in the pediatric setting.
Now he's pouring the same energy into his medical residency in pediatrics at Roanoke's Carilion Memorial Hospital. "All my experiences—everything I've learned by traveling, founding a charity, and living in other cultures—applies to my work as a doctor. We have to be culturally sensitive, exercise compassion, and have a burning desire to make a change while we use evidence-based medicine to make a difference in people's lives," Keel explains. "I love what I'm doing."
To watch the trailer for the documentary film The Road Less Run, visit roadlessrunfilm.com.