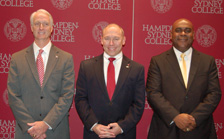 With Patrick Henry and James Madison as early trustees and many elected officials and active citizens as alumni, Hampden-Sydney's support for civic involvement and civil dialogue is no surprise to those who are familiar with the College-especially residents of Prince Edward County and other nearby localities. As local voters headed to the polls for yesterday's special election for Virginia Senate District 22, they did so with a better understanding of their options thanks to a forum hosted by The Farmville Herald and Hampden-Sydney College's Wilson Center for Leadership in the Public Interest. Approximately 175 local citizens packed the house at Johns Auditorium on Wednesday, January 4, 2017, to hear from the three candidates vying for the Senate seat recently vacated by newly elected U.S. Rep. Tom Garrett (VA-5). The question and answer forum offered the only opportunity for community residents to hear from all of the candidates at once.

In an introduction to open the event, Lt. Col. Rucker Snead III '81, Director of the Wilson Center, stressed the importance of civil conversations. Jordan Miles of The Farmville Herald moderated the forum, during which Republican Mark Peake, Democrat Ryant Washington, and independent Joseph Hines articulated their positions on a number of issues, all the while remaining courteous to each other.
The audience, a balanced mix of men and women of various ages, absorbed the discussion with a respectful silence. A nod of affirmation or shake of the head could be seen intermittently as the candidates laid out their positions. After the State Senate hopefuls concluded their closing remarks, enthusiastic applause filled the auditorium. The crowd lingered to chat with each other and with the candidates themselves, who came down from the stage to shake hands and speak with those interested.
Decisions made by state officials on topics such as education, transportation, and infrastructure impact the daily lives of Virginians, which makes state-level elections especially relevant and important. Given the short timeframe before voting took place in this special election, the candidates' forum at Hampden-Sydney offered the community a unique, yet essential opportunity to observe and compare the candidates side by side. Liz Chassey, a local resident, said that the forum was "helpful and illuminating. Because [of the forum] ... I felt confident and informed when I cast my vote."
The event was covered on site by CBS 19 in Charlottesville, WDBJ 7 in Roanoke, and Virginia Public Radio. Republican Mark Peake emerged as the victor in the race.


Photo courtesy of Martin Cahn|The Farmville Herald.