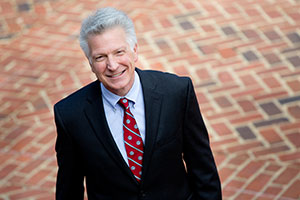 Hampden-Sydney College has appointed John Lawrence "Larry" Stimpert as its twenty-fifth president. His unanimous selection by the Board of Trustees follows a six month national search.

Dr. Stimpert succeeds Dr. Christopher B. Howard who served as president for seven years before being selected as the President of Robert Morris University.

President-elect Stimpert most recently served as Vice President for Academic Affairs and Professor of Economics and Management at DePauw University, responsible for all aspects of DePauw's academic program. He supported the work of 250 full- and part-time faculty in nearly 30 academic departments and interdisciplinary programs, as well as the Honor Scholar Program, the Environmental, Management, Media and Science Research Fellows, the McDermond Center for Management and Entrepreneurship, the Pulliam Center for Contemporary Media and the Janet Prindle Institute for Ethics.

Prior to joining DePauw University, Dr. Stimpert served as Professor of Economics and Business at Colorado College and held the John D. and Catherine T. MacArthur Professorship and the John L. Knight Chair for the Study of Free Enterprise. He co-directed a campus-wide master planning effort and led a delegation of Colorado faculty and staff on Mellon Foundation-funded fact-finding and benchmarking visits to Davidson, Carleton and Grinnell Colleges.

While on sabbatical from Colorado College during the 2009-2010 academic year, he was a Distinguished Visiting Professor in the Management Department of the U.S. Air Force Academy. He also served as an ACE Fellow and Special Assistant to the President at Earlham College during the 2002-2003 academic year. Prior to these appointments, he was a faculty member at the Eli Broad College of Business at Michigan State University.

Before starting his academic career, Dr. Stimpert worked for the Southern Railway Company and for Norfolk Southern Corporation after Southern's merger with the Norfolk and Western. He later worked for the Chicago and North Western Transportation Company.

Dr. Stimpert received his B.A. in economics, magna cum laude, from Illinois Wesleyan University, his MBA from Columbia University and his Ph.D. from the University of Illinois at Urbana-Champaign. His scholarship and academic writing focus on top managers and their influence on strategic decision making and firm strategies. His articles on a variety of management topics have appeared in leading academic journals, and he is the co-author of two management textbooks. He has also written and given talks on a wide range of topics in higher education.

"We're excited by what we know Dr. Stimpert is going to be able to accomplish for Hampden-Sydney," said M. Peebles Harrison, Chairman of the Board of Trustees of the College. "Not only does he have impeccable credentials as an academic leader, he has demonstrated the kind of vision and skill that will be necessary to lead the institution as a whole."

"It has been easy for me to embrace Hampden-Sydney's mission of 'forming good men and good citizens in an atmosphere of sound learning,'" said Dr. Stimpert. "This mission is as important and vital today as when the College was founded nearly two and one-half centuries ago, and it will guide our planning and initiatives in the months and years ahead. I am impressed by the dedication of Hampden-Sydney's faculty and staff, and by the devotion of the College's alumni. I look forward to working with all members of the Hampden-Sydney community to realize our highest aspirations for the future of the College."

Dr. Stimpert will be joined by his wife, Lesley, and their son, Connor, 16, and daughter, Renee, 14.

Founded in 1775, Hampden-Sydney is an all-male college of 1,100 students located in southside Virginia and devoted to education in the liberal arts.

Video from the morning announcement