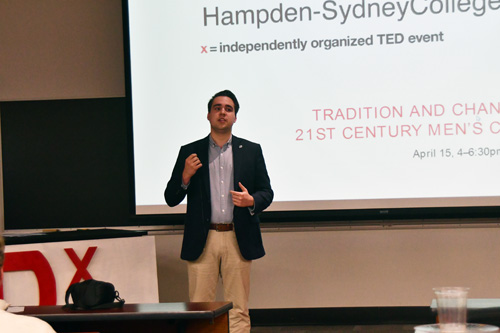 Over the course of four days, Hampden-Sydney College celebrated independent academic inquiry during the annual Student Research Symposium. Now in its third year, the Symposium's goal is twofold: to give students an opportunity to share their work with the wider community and, in so doing, to showcase the variety of student scholarship carried out at Hampden-Sydney.
New to the Symposium this year was Hampden-Sydney's first TEDx event, a series of live TED-style talks delivered by Hampden-Sydney students and faculty, which kicked off the week's events. Centered on the theme of "Tradition and Change at a 21 st Century Men's College," TEDx Hampden-Sydney College tackled issues of socio-economic status, masculine identity, religious faith, artificial intelligence, and global security, capped off by Dr. Alexander Werth's defense of the all-male college. All of the presenters—Dr. Ivo Gyurovski '09, David Bushhouse '19, Shelby Hanna '20, Dr. Robert Irons '00, Wade Bredin '20, Dalton Hall '19, and Werth—were chosen by the College's Phi Beta Kappa chapter, which identified H-SC community members known for both their ability as public speakers as well their enjoyment of it.
As in years past, student presentations throughout the week crossed disciplinary lines—the sciences, rhetoric, global cultures, and business, to name a few—and drew from topics as diverse as economic development, molecular biology, and Russian literature. And the presentations themselves took on all forms, including podcasts, television commercials, and elevator pitches in addition to the more traditional poster and oral presentations.
Tuesday evening's PechaKucha Night allowed the College community to engage with academic research in a more casual, accessible format. "PechaKucha forces students to take their research and distill it down into a bite-sized piece," explained Director of Student Research Michael Wolyniak. "And we deliberately hold our evening event at the Tiger Inn over a beer, so the atmosphere is relaxed and fun."
PechaKucha presentations utilize 20 slides that advance every 20 seconds, giving speakers just under seven minutes to communicate their work with the audience. And the events are frequently held in casual, public spaces with food and drink—making H-SC's Tiger Inn the perfect venue. Four students and two professors gave PechaKucha presentations on a research topic of their choice, from "Mark Twain to Styx: Going Overboard with Sailing Metaphors" by Jack Dickerson '19 to "The Mathematical Art of Tessellations" by Leonardo Anselmo '19. The event was held in conjunction with the Department of Rhetoric.
Wolyniak hopes TEDx Hampden Sydney College and PechaKucha Night will become annual events and looks forward to increased collaboration between the College's Office of Undergraduate Research and the Rhetoric Department in the years to come. It's just another way the College is living out its commitment that all Hampden-Sydney graduates will have demonstrated the ability to write and speak clearly, cogently, and persuasively.
More about Student Research 2019