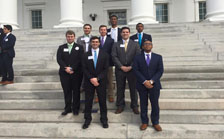 On February 2 and 3, eight Hampden-Sydney students traveled to Richmond to participate in the annual Virginia21 Lobby Day. Virginia21 is an advocacy group that provides non-partisan information and support to young voters on the issues of college affordability, jobs for graduates, and political engagement. Virginia21 Lobby Day is a two-day event that brings college students from across the state to Richmond to lobby for these issues. This was the first year that Hampden-Sydney College attended, and it was a huge success.

On Tuesday, the students spent the afternoon learning how to lobby. As part of that process, they heard from Lieutenant Governor Ralph Northam, and went to a networking reception in downtown Richmond with lobbyists, Delegates, Legislative Aides, and members of the Virginia21 board. On Wednesday, the group met with Delegate James Edmunds and Senator Tom Garrett, who represent Hampden-Sydney and the surrounding area, to discuss issues such as college affordability and the Virginia Tuition Assistance Grants.
The Hampden-Sydney students in attendance included Alex Tait '18, Henry O'Neal '18, Stewart Lawrence '17, Trevor Starnes '17, Nate Oliver '17, Kyle Hart '16, James Crandall '16, and Terrance Harris '16.