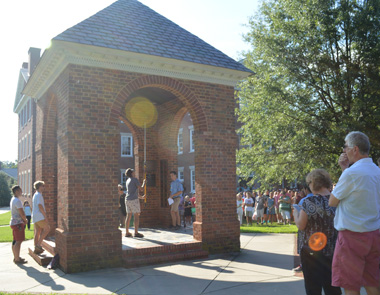 Hampden-Sydney College's new president, Dr. Larry Stimpert, formally began the 242nd academic year on August 24, 2016, with the Opening Convocation ceremony on the lawn of Venable Hall.
Freshmen literally "rang in" the new academic year just a few days earlier at the Watkins Bell Tower during freshman and transfer move-in day.
At Convocation, new student leaders were inducted, including Student Body President Eric McDonald '17, who welcomed everyone to campus. Tyler Langhorn '17 delivered the charge to new freshmen, encouraging them to take full advantage of their time on the Hill, to make a diverse group of friends, to work hard, and to embrace the lessons of the Honor Code.
President Stimpert laid out his plan for the coming year, as well as for his term. He wants to develop a "holistic approach to higher education." To the students, he said, "As a college, we will always be focused, first and foremost on the development of your intellect, but here we also seek to educate your physical, social, emotional, moral, and spiritual dimensions as well." He encouraged the students to read more, to write more, and to engage in lively debate. Dr. Stimpert also reinforced the value of Hampden-Sydney College's Honor Code and the Code of Student Conduct.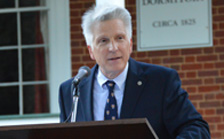 Opening Convocation is also an occasion to celebrate accomplishments of returning students. Senior Fellows Robert P. Gilbertson '17, Stewart Reese Lawrence '17, Cody Wayne Smith '17, and Christopher Michael Williams-Morales '17 were appointed for the 2016-2017 academic year.
The Omicron Delta Kappa Award, given to a sophomore who demonstrated leadership potential during their freshman year, was presented to Dalton Patrick Hall '19. The Samuel S. Jones Phi Beta Kappa Award recognizes intellectual achievement and good citizenship at the College. The junior that received second honor was Nicholas Foster Chase '18. First honor went to the junior with the highest cumulative grade point average, Hayden James Dougherty '18.
Five President's Awards for Academic Excellence were given. The President's Award for Scholarship and Character went to Guilherme Jendiroba Guimaraes '18, and the President's Award for Academic Excellence in Humanities was given to Andrew James Marshall '17. Brant Derwent Boucher '17 was presented the President's Award for Academic Excellence in the Natural Sciences and Mathematics, and the President's Award for Academic Excellence in Social Sciences was presented to Robert P. Gilbertson '17. The award for Overall Academic Excellence was awarded to James Hua Lau '17.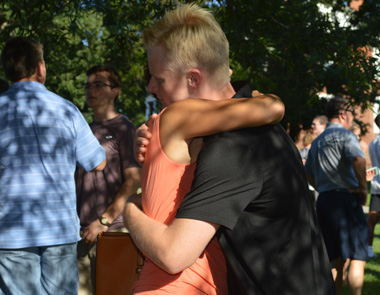 As they embark on a new year, Dr. Stimpert issued a challenge to all of the students: "One of the most important attributes of our Hampden-Sydney College community is that we are a community--a very special brotherhood, and we are a brotherhood dedicated to helping each and every one of you become the best man and the best citizen you can be and achieving all that life has in store for you. So, let us have the courage to challenge ourselves and one another to be one of the best things you can be--a Hampden-Sydney Man."