2018 UPDATE:
Austin Galeski '19 won two gold medals and a team bronze at the United World Karate World Championships in Montecatini-Terme, Italy, in December. The bronze came in team Kumite; he won Kata Rengokai and Kata Shorin-ryu. Austin is a member of Team AAU USA. He trains with John Axson '05 at Axsom Martial Arts in Newport News.
---
This story appeared in the January 2016 Record, the alumni magazine of Hampden-Sydney College.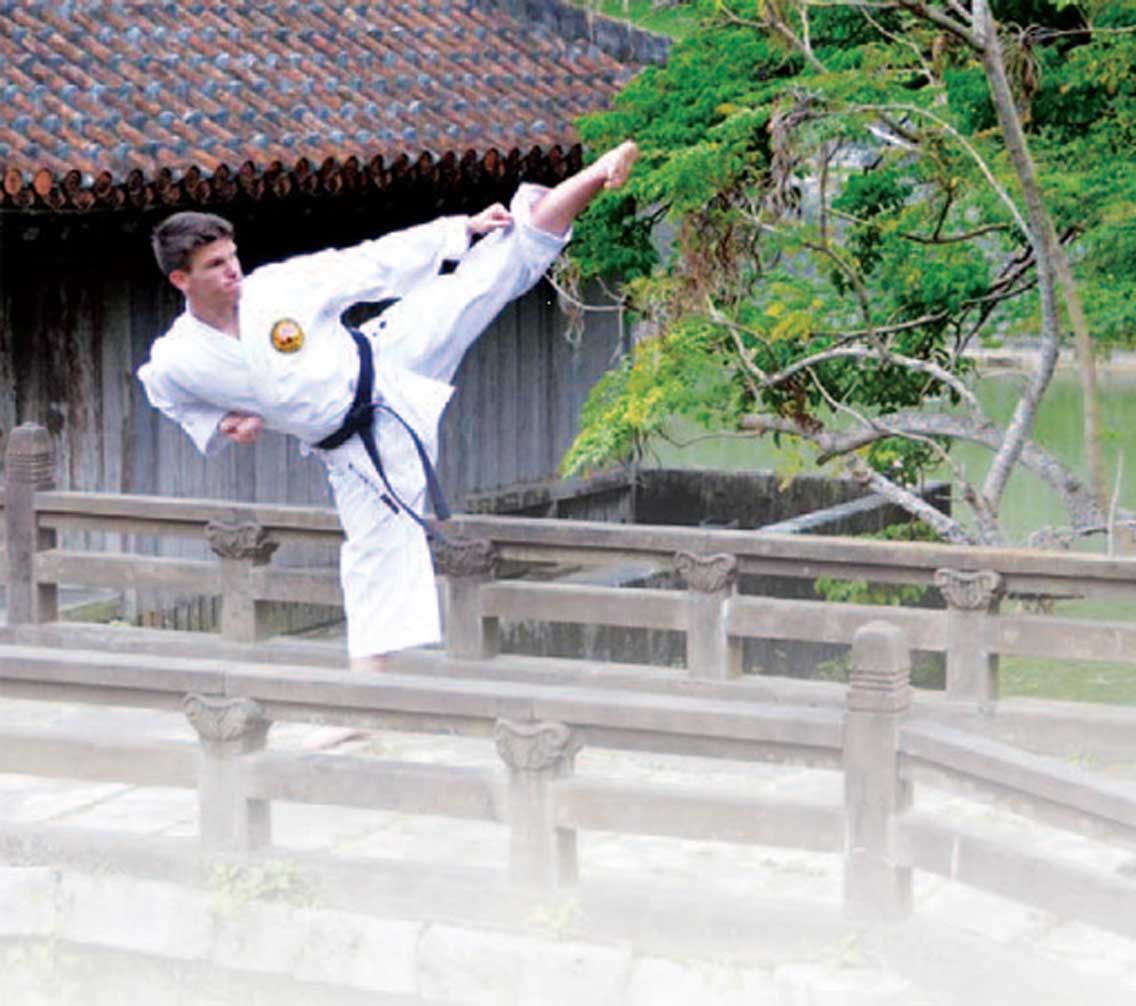 Stepping out onto the fighting pad at the 2015 AAU Karate National Championships, freshman Austin Galeski '19 held high hopes for his first appearance on the national stage. He had been training almost daily, accelerating through the ranks to become a black belt in only three years, and he had already competed in four invitational, state, and regional championships, earning first place in all of them. He was already a champion. But his underestimating the competition at the larger, more competitive AAU national event cost him dearly: He failed to place in a single division.
"It hit me like a train, that there were people out there better than I was," he said. He even considered walking away from competitions altogether, focusing instead on the traditional training to which he had grown accustomed at his dojo in Newport News. But the people around him, especially his instructor and Sensei John Axsom '05, told him that having the chance to compete on the national and world levels was about more than just personal achievement.
"It would be about the kids I teach at the studio; it would be about my peers, who wanted to go to world championships," he said. "And since I was already looking at Hampden-Sydney, I thought it would bring a lot to the College." So he went back to his training, he refocused, and he redoubled his efforts to earn his second-degree black belt by his senior year. "I spent a lot of time in the studio. I wanted to do better."
With a renewed spirit, he signed up for the 2015 AAU Junior Olympics. He entered three divisions: forms, weapons, and fighting. Competing against hundreds of others, Galeski dominated, taking the gold medals for forms and weapons. He earned silver in fighting- placing second only because he was disqualified for giving his opponent a concussion during the match. Nevertheless, he received the AAU Joel Ferrell Award, a singular award earned for bringing home the top-tier medals.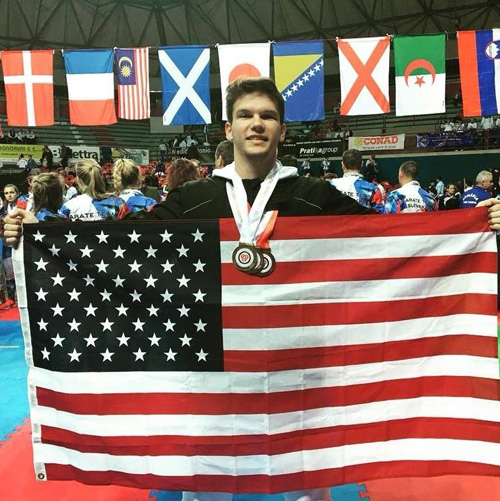 He's only progressed from there. During the week of October 12, 2015, Galeski and another karateka from his dojo, Amadou Diallo, were in Koper, Slovenia, with 25 other members of the USA National Karate Team, competing against 1,200 others from 46 different countries. Almost everyone in his crew medaled, and Galeski brought home the silver in the "forms" competition.
According to the AAU website, Galeski is now a six-time Super Regional Champion, an eight-time State Champion, and an 11-time Invitational Champion, and he took the bronze medal in Kumite at the 2015 AAU National Championships. The 18-year-old is also the 2014 Ryukyukan Heavyweight Jissen (knock-down) Kumite Champion.
"I had to buckle down with studies before I started training here," he said, "but in my free time I go down to Kirby to train with a few guys, unofficially. They're interested in competition training because they've heard about the world championships."
Galeski and his guys accidentally walked in on Dean Dennis Stevens' martial arts class earlier in the semester. The two struck up a conversation, and they may work together to start a martial arts club on campus. It would be a fitting addition to the College: after all, the philosophy of karate includes self-discipline, respect, determination, and patience-qualities and virtues not unlike those of the more traditional Hampden-Sydney man.