From The Record, July 2013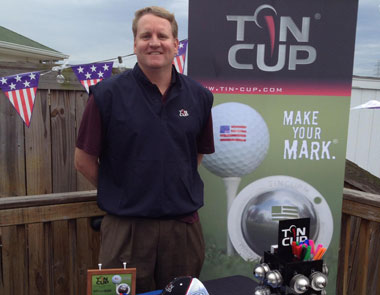 You might think a game that has been around for hundreds of years would be pretty settled in terms of equipment, but every year manufacturers introduce dozens (if not hundreds) of new products for golf. From shoes to clubs to bags to balls, golf equipment is always evolving.
Four years ago, Cabell Fooshé '92 joined the fray with another new product, Tin Cup, a quick and easy way for golfers to mark their ball in accordance with PGA rules while injecting some personality and creativity into the process. Rather than just marking their ball with a dot or a line, golfers can use a Tin Cup to mark their ball with anything from a martini glass to a dragon to a tiger paw. There are dozens of available designs.
"It's been a lot of fun growing the company and seeing the excitement from the customers," says Fooshé. And there has been plenty of growth and excitement.
Tin Cup was invented by Jim Millar, a good friend of Fooshe and co-president of Hitt Contracting, where Fooshé previously worked as a recruiting director. "In June 2009, we formed the company, so I was working two jobs at once. We set up the website in August 2009 and placed our first ad in Golf Digest and Golf magazine in November 2009. We started getting some orders; then in January 2010, we went to the PGA merchandise show in Orlando and we were voted one of the best new products. Our booth was mobbed with people four and five deep. At that point, we knew that we really had something."
Soon, they began recruiting independent sales representatives and now have 30 across the country. Tin Cup is available in the PGA Superstore and Edwin Watts Golf Shops, as well as at pro shops at golf courses across the country.
"We are in over 1,400 golf shops; we also have a distributor in Canada and in England and we ship all over the world through our on-line business."
Before working at Hitt Contracting, Fooshé spent a number of years at another start-up. "That's where I learned a lot of the entrepreneurial skills and how hard it can be getting started and getting traction."
Also, he uses many of the lessons he learned at Hampden-Sydney, including those taught outside of the classroom. "When you're dealing with your customers you understand the value of doing something a little extra to make them feel good-a little upgrade or including a little handwritten note like Anita Garland does at Hampden-Sydney. People appreciate those little extras and it makes the difference between you and your competition."
"I had such a good experience at Hampden-Sydney and I felt like it was such a great place, so I wanted to find a way to give back," adds Fooshé. So, he decided many years ago to get involved in his local alumni association club in Northern Virginia. For many years, he served as the club president.
"I wanted more people here to know about Hampden-Sydney and to build up the club here. There are so many of us up here, but it's a hard area to get around with all of the traffic and congestion. So, I wanted to get involved and to give back as much as I could."
He gets back to Hampden-Sydney as often as he can, which is admittedly not as often as he would like. However, he does make time for at least one football game every year. Fooshé has the rare distinction of playing on the Tiger football squad for only his senior year.
"I knew I would never have the chance again, so I talked to the coach about playing and he let me join the team."
Since college, Fooshé stays active playing golf, but he doesn't get to play very often any more. "I'd say my handicap has just about doubled since I've been in the golf business. I was a six. I'm probably an 11 now."
He is too busy growing Tin Cup to play much golf, though he does like to get out to courses and hear from customers. "We get a lot of ideas from our customers and we try to introduce a new design each month. The funny thing is that some of our first designs-the American flag, martini glass, four-leaf clover-continue to be some of the best sellers."
If customers cannot find the perfect design from Tin Cup's extensive selection, they can have a custom design created.
"We also do custom designs for people or companies. We did a great custom design for Clint Eastwood's tournament in California. That was a lot of fun."
Tin Cup's customers include professional golfers like Rory McIlroy, Peter Jacobsen, and Lee Westwood, as well as some players on the LPGA Tour and on the Web.com Tour.
As with any growing company, Tin Cup continues to innovate. In addition to the increasing number of available designs, they have introduced Pitch Fix, which repairs the dent created when the ball hits the green.
Breaking into a new industry is exceedingly difficult, but Fooshe and Tin Cup have made great progress. As they expand into new areas and introduce more products, we will surely see more of Tin Cup in the world of golf.