From The Record, JULY 2014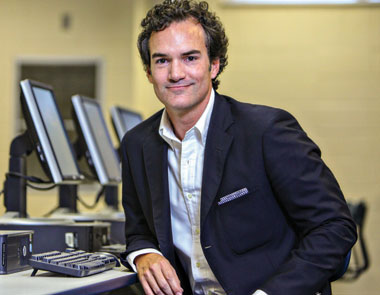 More than 3.2 million students are victims of bullying each year, according to the National Association of School Psychologists (NASP). This kind of behavior includes physical aggression, threats, teasing, and harassment, and it affects children in all grades.
New technologies and social media, such as text messaging and Snapchat, are tools that bullies sometimes use. But some of those technologies are making it easier for children to reach out for help, too.
In 2014 Carter Myers '95 started the company TxtAboutIt, which uses text messaging to facilitate anonymous, private conversations between victims and counselors.
"When I initially approached school districts about the issue, although they would admit that there might be some problems related to it, the idea of technology being both a part of the problem and a means to solve the problem was looked at really negatively." School administrators did not see a place for technology in the schools, so Myers spent many of the early years in "hard-core evangelism" to promote the technology as both part of the problem and as part of the solution.
Now technology is much more accepted in schools, from allowing students to have cell phones to distributing computer tablets.
Myers says giving a smart phone or a computer to a child with no guidance is like giving a 16-year-old teenager the keys to a car and saying, "Go learn how to drive."
"There is so much power behind a web-enabled device that there has to be some education to go along with it."
Traditional bullying still exists. But a bigger issue, according to Myers, is children using technology to capture on camera the traditional forms of bullying-fights and humiliation, for example-and then distributing it electronically to an audience that is much broader than the small group who may have actually witnessed the act.
"Now victims have to deal with the shame of it happening to them, and then they have to deal with the wider shame of the distribution of the act to so many people. That's when you see kids having really difficult reactions to the issue, even to the point of suicide."
The technology lets students use any mobile phone to text a short, coded message to the school representative of his choosing, typically a counselor, a teacher, or an administrator. Rather than getting a generic response, the student gets a response from a person he already knows.
"Students typically don't believe that our service is real until they get that response from a staff member. As soon as they get that response, that's when they buy into it. That's when they start opening up in ways we never expected. We never expected students to say these unbelievably frank and intimate things about cutting and self-injury, about suicidal ideations, about abuse. That's what was so surprising to us-not just their using it."
Unless the students reveal their identities or threaten themselves or others, they remain anonymous. There are systems in place so a school can discover the name of the student if necessary, which also helps prevent misuses of the technology, such as submitting false reports.
"People ask me, 'If you can find out who the student is, why would they use it?' That's a fair question, but in my nine years of doing this, I can tell you without a doubt that they do. In fact, more students use the system openly than anonymously. We see this because there is a need for students to reach out. There is a need for a way for students to get past that stigma of needing to get help."
The technology is moving beyond schools. Community mental health agencies are using it in communities such as Joplin, Missouri, which was devastated by a tornado and left families under severe strain. In those circumstances, adults are using the technology for relief, too.
Just as people are willing to say hurtful things through messaging, they are just as willing to say intimate things about themselves to reach out for mental health assistance.
Myers' advocacy for victims of bullying has sent him down a winding road. After graduating with a degree in classical studies, he went to law school at the University of Mississippi, but quickly realized he did not want to practice law. He moved to Washington, D.C., and began working in sales for a technology firm. He helped found a technology company that facilitated grassroots advocacy before he and his wife, Lydia, decided in 2005 to move back to Mississippi, their home state.
"The Sarbanes-Oxley Act of 2002 had passed, which required corporations to create basically a whistleblower mechanism. I had been working with major corporations in D.C., and I knew that there was an opportunity there, so I started looking into texting and online messaging. But I found there were a lot of big players in that market who were running 24-hour hotlines; they could have one meeting and introduce a text messaging mechanism that would put me out of business. My mother being a principal at the Episcopal school I attended turned my attention to schools in general. I grew up at my school, so we've always had a connection to that world. I don't really know when the light-bulb moment was, but I knew the technology could be well-used. I just needed to find the population that could significantly benefit."
Students needed another way to reach out for help, and Myers needed a consumer base.
"I remember after our beta testing thinking, 'I have no business case saying people will buy it, but I have a usage case that is too compelling to ignore.' So, like most entrepreneurs, I just risked it and went for it."
Some of his entrepreneurial spirit came from his days at Hampden-Sydney. He says, "Going to Hampden-Sydney and being in that unique, somewhat isolated environment, you learn to rely on yourself. For someone like me, coming from Mississippi and being dropped off in Virginia, you either have to accept the challenge of where you are and make something special out of it, or you don't and you leave. Hampden-Sydney gave me the courage to take risky steps, to start businesses that someone else thinks are just nuts."
Myers also says facing the academic rigor of Hampden-Sydney and his classical studies major-especially his classes with Dr. James Arieti-and achieving some level of success in the classroom gave him a great deal of confidence as he entered the workforce.
"I remember my first few jobs after college and I thought, 'Gosh, I feel really prepared compared to a lot of the people around me.' I really mean that; I felt very prepared. I didn't know that walking into it, but I remember thinking, 'I can do this.' That confidence came from Hampden-Sydney."
In recalling his days as a student at Hampden-Sydney, he admits he did not reach out for help when he needed it-nor did he speak up to help other guys he knew were dealing with problems. TxtAboutIt gives young people the chance to do what Myers never did. It also gives him the chance to make great strides in helping children and teens recover from being bullied.