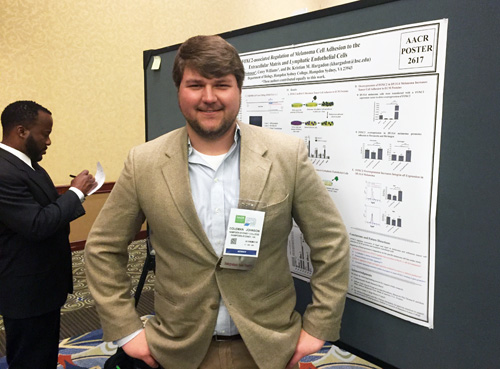 It was a tremendous honor for an undergraduate to present at this meeting—the conference attracts over 22,000 cancer researchers from across the world every year.
This event is coming off of a successful two years of research with expert in tumor immunology and Elliott Associate Professor of Biology Dr. Kristian Hargadon and classmates, Corey Williams '19 and David Bushhouse '19, who also presented at the conference. Together, they published a review article on cancer immunotherapy in the journal International Immunopharmacology last fall. The article, entitled " Immune Checkpoint Blockade Therapy for Cancer: An Overview of FDA-approved Immune Checkpoint Inhibitors," highlights the emerging field of checkpoint blockade therapy that has revolutionized the treatment of many cancer types in recent years. Designed to "release the brakes" that inherently limit the strength and duration of natural immune responses, checkpoint blockade therapy enables many patients to achieve long-term anti-tumor immune responses capable of eradicating their disease.
---
"It has been a true joy for me to work with these outstanding students the last 4 years, and I am so looking forward to following their medical and research careers. From their first days on campus, they have shown a dedication and passion for their work that I know will carry them far and lead to very bright futures for all."
~ Dr. Kristian Hargadon, Elliott Associate Professor of Biology
---
Cole has been doing melanoma research in Dr. Hargadon's laboratory since the summer of 2017. He will be attending the Virginia Commonwealth University School of Medicine next year.