Meet Dustin Wiles '17.
A senior outfielder, Dustin is entering his fourth and final season, this time as a captain-just as his brother Spencer Wiles '15 was before him. His leadership qualities aren't reserved for the baseball field, though. His considerable success as a biology major indicates that success on the Hill is earned, and Dustin leads by example in the academic arena.
So, what exactly do the demands of a student-athlete look like day-to-day? Take Tuesday, for instance:
7:15 AM Wake up, shower, get dressed.
7:55 AM Dustin arrives at Pannill Commons with enough time to eat breakfast before his first class.
8:30 AM Gilmer Hall beckons, and it's off to Developmental Biology.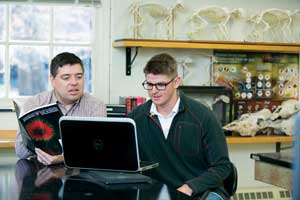 9:50 AM After biology ends, Dustin heads across campus to Kirk Athletic Center for his Visual Arts class. He claims, "I basically sprint, but I'm usually three minutes late." (While leadership applies both on and off the field, it seems that his speed may not.)
11:20 AM Dustin is walking back to the dining hall for lunch. "I don't really drink soda or eat fried food," he says. "Plus, I usually eat quickly so I have some time to work on the Journal of the Sciences." The first moments of the afternoon, then, Dustin spends back in the science department, editing the student-produced publication of summer research.
12:30 PM Dustin sits in his final class of the day, a religious survey. When class ends at 1:50, a quick stop at the post office to check his mailbox is all that stands between Dustin and baseball practice.
2:15 to 6 PM The first "break" from schoolwork is spent on the baseball field, in the batting cages, and on the track. In the almost four-hour practice Dustin will run outfield drills, take batting practice, and play in an intrasquad scrimmage. The season is long, and success requires proper conditioning.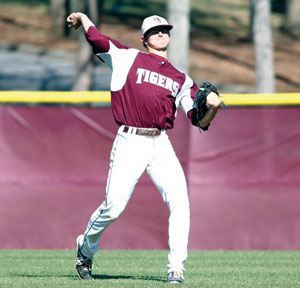 6:05 PM Dustin is in the weight room for the rest of the hour. Seven pm marks the end of his day as an athlete, but it also means that the dining hall will close in thirty minutes and there is still studying to take care of.
7:15 PM Arriving at the Commons, Dustin has time for a quick dinner before heading to the library. Surely, a cup of coffee is in order at this point, but "I'm not really a coffee drinker," says Dustin. "I do fill up my water bottle, though."
7:45 to 11:15 PM Dustin sits in the basement of Bortz Library doing schoolwork. This particular evening, it's a drawing of the Wilson Center for his Visual Arts class.
11:20 PM to 12:15 AM Dustin is back home, his first opportunity for free time today. The day has been long, though, and Wednesdays are just as demanding. So, after a shower and a snack of Greek yogurt and fruit, Dustin retires at 11:50. He's reading Tim Tebow's Shaken on this Tuesday night, and the pages keep turning until the lights go out.
Those familiar with Hampden-Sydney understand the plight of the hardworking student: Morton becomes a second home, Gilmer a monument of scientific discovery. Dustin understands his role here a bit differently: "There's a lot to get done in a day, but I think that's why H-SC has prepared me so well for what's next." The Belmont, NC, native will attend the University of South Carolina next year to study physical therapy, a fitting culmination of his success as a student-athlete.
Graduate school is certainly a long-term plan for Dustin. But for now, so is an ODAC championship, as well as another semester of straight A's. How, exactly, does Dustin plan on taking care of these responsibilities? "One day at a time."