He had only two weeks to make the decision, secure a visa, and get himself 4,500 miles to Charlottesville, Virginia.
The other catch? He spoke almost no English. With little deliberation, however, Gui remembers, "I went with the moment, packed my bags and my dreams, and headed to America."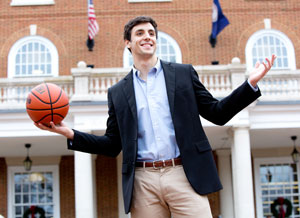 The journey itself was not without drama. A mix-up with his paperwork meant that Gui spent his first few hours in America in an immigration holding room at Dulles Airport. Unable to understand the agents and unsure what he was missing, Gui sat in a room crowded with crying people until his new high school supplied the correct information for his visa. He arrived in Charlottesville late that night, only to attend his first class-U.S. History-early the next morning.

Within four months of that confusing first day, the six-foot-eight Brazilian was writing essays and joking with his teammates in English. Asked how he mastered the language so quickly, Gui replies, "First of all, I had no other choice. When everything around you is in a foreign language, you have to learn it. Second, I'm an extrovert-I wanted to talk to people!" His two years at the Miller School, a boarding school with a welcoming and warm environment, prepared Gui well for college studies in the U.S.
When the time came, however, he found himself without the financial resources to attend an American university, until his first interaction with Hampden-Sydney's alumni network came in the form of the Davis Fellowship.
Established by Norwood '63 and Marguerite Davis, the scholarship offered Gui a ray of hope, but he never imagined that he would be chosen. In fact, he was back in Brazil when Hampden-Sydney requested an in-person interview, so once again he made last-minute arrangements to fly to Virginia. Honored by his acceptance as a Davis Fellow, Gui has approached all of his many activities at Hampden-Sydney with enthusiasm, excellence, and a strong competitive streak.
On the basketball court, Gui has started in 43 games over two years, averaging a 58% shooting percentage his sophomore year. Because of his athletic skill and leadership, he was named team captain this season.
In the classroom, the chemistry major's academic achievements have led to multiple awards and recognitions. At Opening Convocation 2015, Gui received the Omicron Delta Kappa Award for academic achievement and constructive leadership; at Opening Convocation 2016, he received the President's Award for Scholarship and Character. He is a Patrick Henry Scholar and has been inducted into both the Omicron Delta Kappa national leadership honor society and the Chi Beta Phi national science honor society.
Around campus, Gui says he "tries to inspire excellence in others." In pursuit of that goal, he serves as a Resident Advisor and a member of the Student Court. "R.A.s are the first people freshmen see when they arrive on campus, so I know I'm a role model." He appreciates the fact that "at H-SC, students get rewarded for doing the right thing. There is an incentive to be a man of character because people are watching."
Gui also appreciates the College's strong alumni network. Twice he has received the Roy B. Sears '42 Endowment for Student Internships, which he used to pursue both of his passions, chemistry and basketball. He is grateful to Rob Geiger '94 for an internship at AmbioPharm the summer after his freshman year, where he saw firsthand what he can do with a chemistry degree. This past summer he taught basketball in his native city of Ribeirão Preto, coaching 5 to 7-year-olds during the day and 15 to 17-year-olds in the evening. It also meant the opportunity to see his native country gear up for the 2016 Olympic Games, and a chance to carry the Olympic torch when it traveled through his hometown on its way to Rio. As an R.A., he had to return to H-SC before the games began, but he is proud of Brazil's efforts as host country.
Although he isn't sure what the future holds, Gui knows in some way it will involve taking what he has learned at Hampden-Sydney–as a chemist, an athlete, a leader, and a citizen–back home to make a positive impact in Brazil.