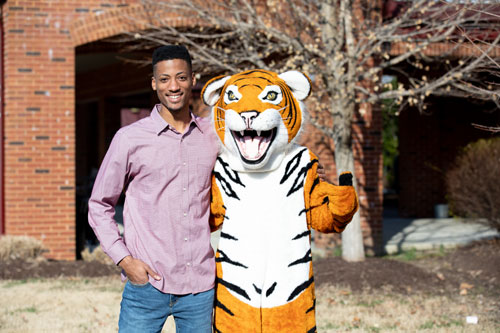 Henry has been involved in community service since his freshman year at Hampden-Sydney—he has organized volunteer events with the Prince Edward County Public Schools, he volunteers for political campaigns in Virginia, Illinois, and California, and he created the College's first Martin Luther King Day of Service in January of 2016, an event that he has continued to organize every year since.
With an infectious smile and characteristic humility, the Virginia Beach native downplays his role in Hampden-Sydney's observance of the MLK Day of Service. "It's nothing spectacular, just people helping people," he shrugs, although he does admit, "I'm always a bit surprised—and grateful—that so many guys show up at 8:30 am on a Saturday morning in the middle of January to do community service."
To honor MLK Day this year, H-SC students partnered with the Farmville Area Habitat for Humanity to put the finishing touches on a previously foreclosed property. They built porch railings, painted the home's interior, graveled the driveway, and polished the floors to get the renovated home ready for its new residents.
Henry's leadership through service began his first year at Hampden-Sydney during an internship with Obsidian Solutions Group. Henry learned of an illegal tire dump near High Bridge Trail State Park located in Prince Edward and Cumberland Counties. In conjunction with the MLK national day of service, he organized efforts to remove and recycle more than 1000 tires that had accumulated within sight of the trail.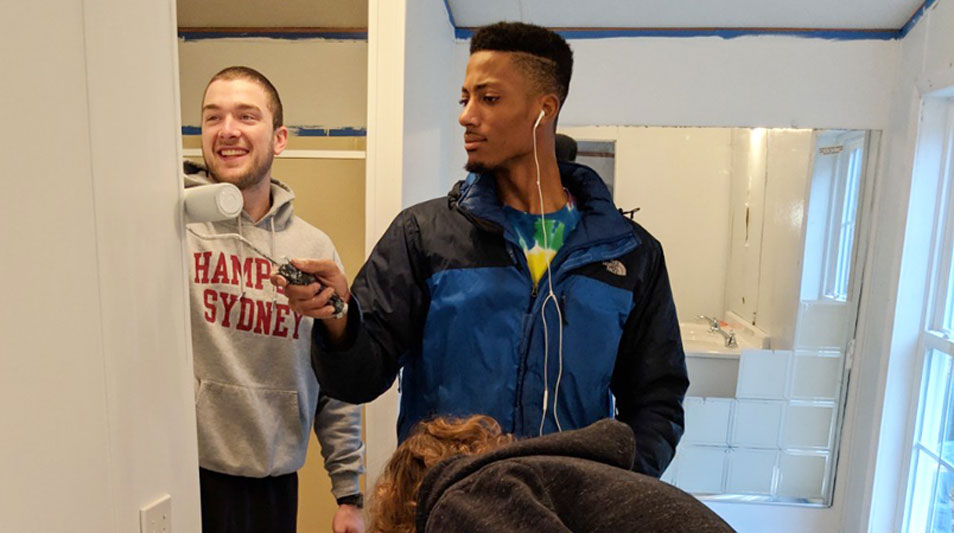 The following year, Henry and almost 50 other H-SC students partnered with Prince Edward County Public Schools to help create an outdoor classroom behind the high school. Henry and the College's efforts drew notice in the Farmville community and coverage by local media.
Henry's commitment to public service has extended well beyond the Hill and the Commonwealth; after getting a taste for political campaigning with a state-wide candidate in his home district of Virginia Beach, Henry took two semesters off from his Hampden-Sydney studies to work the campaign trail full-time, first on a Congressional race in California, then on a Congressional race in Illinois. He also found time for a public policy internship in Washington, DC, and a term as Chairman of the College Activities Committee at H-SC.
The friendships Henry has formed during his time at Hampden-Sydney have influenced the way he approaches politics. "The whole point of living in civil society is being willing to explore new ideas, to admit where we may be wrong or where our opponent may be right, and to find common ground," he says. "And at Hampden-Sydney, even though some of my best friends are on the other side of the political spectrum, we have solid debates where we end up seeing both sides and finding areas that we agree on."
Now in his final semester at Hampden-Sydney, Henry looks forward to taking that same commitment to public service and civil discourse into a career in public policy.