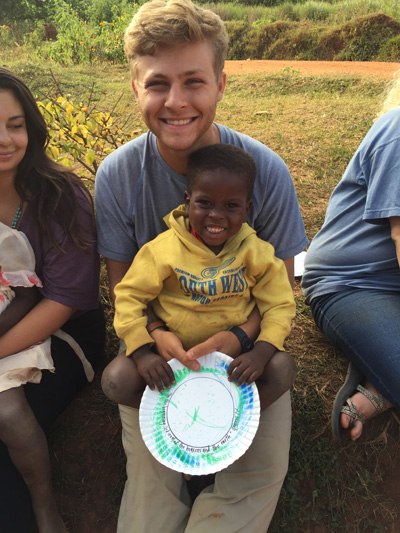 This summer, Hunter made his second humanitarian trip to help children in the capital of the small East-African nation.
Sozo Children is a Christian non-profit organization building a permanent community for Ugandan orphans and impoverished children. This community, called The Village, is currently under construction on 28 acres near Kampala. Sozo Children has already dug two wells and will soon build homes in The Village to replace the facilities they now rent. The community will implement a sustainability program that feeds and regenerates the homes while teaching the children life skills.
Hunter reflected on his time in Uganda, where he assisted with daily schooling and extracurricular activities. "They like you to think you're doing more for the kids, but it's not true. You get way more from [the experience] than the kids."
There's more to Hunter than his mission work, however. Born in Washington and raised in Alabama, he played baseball in high school. He is serious about his academics and at Hampden-Sydney is a member of the Freshman Leadership Program and the Honors Program. The decision on where to go was very important to Hunter.
"Originally, I was like 'no way am I going to an all-male college' but after doing a lot of research and talking to [Assistant Dean of Admissions] Michael Lee '14, I gave it some consideration." The real deciding factor for Hunter came when he asked Lee to find an alumnus in New York who went to an elite MBA program, preferably Ivy League, who now works in financial services. Lee served his request in just an hour and a half. Hunter noted "you can't get that kind of experience or a similar alumni network anywhere else."
Hunter is excited about his time on the Hill - in and out of the classroom - and looking forward to pursuing an MBA next. As for his participation with the Sozo Children - he promised them he would return for a third visit one day.