From The Record, Summer 2016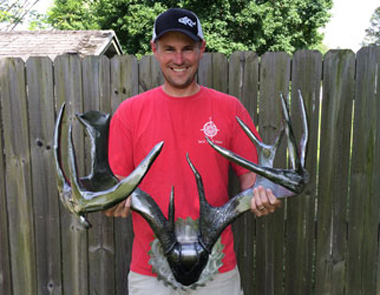 When economics major J. Tyler Matthews '05 moved up to Delaware a number of years ago, he started getting into rock crawling: an extreme form of off-road driving using highly modified, four-wheel-drive vehicles to navigate over boulders and other obstacles. It was his "release," he said, a hobby allowing him to explore jeep trails, take road trips, and learn how to build and repair vehicles. Indeed, cracked frames, broken tie rods, and busted suspensions Tyler Matthews are the norm."
I spent way too much money on it," he said, "but in turn, I learned how to do roll cage modifications, chassis modifications, suspension work, welding, and other metal fabrication." The constant stresses on the vehicle gave him plenty of work.
But the constant jostling and shock also took its toll on his back. After four or five years of climbing up and down mountains in the backwoods of the Mid-Atlantic, Matthews realized the damage he was doing to his body was "too far gone."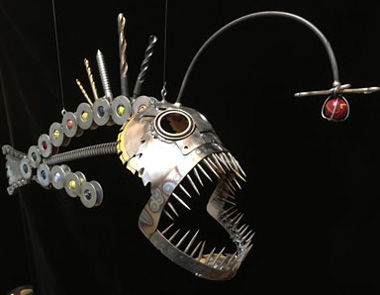 "I sold everything," he said, "But I kept my welder. Then a friend of mine at 16 Mile Brewing in Georgetown dared me to weld together a better tap handle or him-then the company started commissioning me to make more metal tap handles."
From middle school through Hampden-Sydney, Matthews had already taken art classes in which he painted and did wire sculpting, so combining his metalwork with art seemed to be a natural outlet.
While working as a project manager for a construction company, he started picking up "anything metal," he said, which otherwise would have been discarded from the jobsites. "Saw blades, nails, washers, bolts-and I had all these license plates from my rock crawling days. So my wife suggested I make something." Matthews started fabricating sculptures under the name Hammered Pig Ironworks. He saw parts and pieces of his artwork just lying around. Where some people see nails, he sees ribs. Where some see rusted old saw blades, Matthews pictures the side of a fish's head.
His unusual ability to envision exploded, three-dimensional machines and artwork, and seeing how it all fits together, is the mental blueprint from which he works. And people have noticed. Those who had known him for his tap handles started commissioning him for other artwork. Matthews now estimates that 80% of his sculpting projects are commissioned, but he's not necessarily in it for the money-as it is, he just assumed a new full-time job with the wealth management company Raymond James. "It's just neat to take things that people just leave in the dirt to rust and rot away, to pick it up and make something that no one would have related to the final figure."