From The Record, October 2015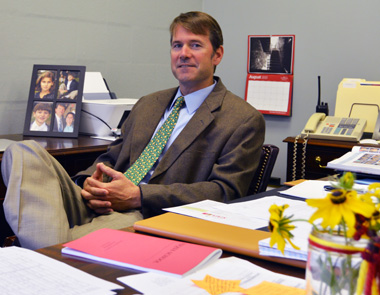 Although John Melton '91 wasn't sure which profession he wanted to pursue in his early days at Hampden-Sydney, little did he know that his experiences in summer camps and his studies in biology had already paved the way to his role as the new head of Fuqua School in Farmville. His primary duties include leading the day-to-day operations of the school and working with the board on long-term financial, strategic, and capital planning. His daily duties are important for at least one, simple reason: He directly influences the characters and values of hundreds of children during particularly transitional times in their lives.
Many of his views on education have come through spending most of his past 25 years working with young people. He led rock climbing, rafting, and spelunking trips with young adventurers at Palmyra's Camp Friendship while a sophomore at H-SC. He started his career as a science teacher in Fairfax County and then moved to Miami, Florida, to work as an upper school dean of students. Most recently he split his time between teaching science and working in administration in The Country School in Easton, Maryland. But he also learned much about core values and school community-key components in childhood education, he believes-from his time on the Hill.
"We have an honor code in the middle school and high school," he said, "and I went to school and worked in schools with honor codes. I think they're very appropriate at the high school level. But it needs to take a bit of a different shape in the middle school, because kids are in different places. In a lower school setting, I think that's where you start talking about core values. Educators-whether in the classroom, coaching, or during a casual lunch-should always be looking for ways to weave core values into the conversation: honor, respect, responsibility, commitment, moral courage, accountability, and many others. And these values cut across religious and political boundaries."
Melton believes that students inevitably will begin to see their world and their place in it differently over time, especially during their middle school years. "They're at an age of defining who they are. In elementary school, they're wondering who they are with their families. In middle school, they're wondering how they compare to the person next to them-to their peer groups. It's a whole new frontier of learning that happens." Much of this change in students results in their wanting to be part of a group or a community.
"In addition to academics," he said,"which is obviously the primary reason we pursue higher education or attend school in general, there needs to be something else. In my experience, from middle school, to high school, to college, there need to be opportunities for every student to feel as though there is something they can connect to and contribute to in order for them to feel as if they are part of the fabric of the school.
"This tendency for students to want to become part of the school community reminded Melton of his time at Hampden-Sydney. Indeed, the College provided him with a culture and experiences that fed directly into his understanding of youth involvement.
"I came in and played football for about a year and a half," he said of his freshmen and sophomore years, "until I realized that my role was pretty much presenting myself to the offensive line of the opposing team every week. So I was a scout squad guy. But for me it was a great way to become part of the College community. It was something I wanted to be a part of." He also became a member of Phi Gamma Delta fraternity and joined a number of intramural sports teams.
In addition to providing Melton with a better understanding of the importance of instilling core values and providing a healthy, welcoming community, Hampden-Sydney also helped his personal development as an educator. He recognizes how his foundation in liberal arts helped prepare him for his career.
"A strong liberal arts foundation is important when you're going into education. You're expected to know how to communicate in writing, in verbal dialogue, and in presenting yourself well. Whenever you work in a population of young people, you're always being watched-how you react and how you deal with certain situations. And Hampden-Sydney provided me with an environment where I could figure out who I was and what value set I was going to possess throughout the rest of my life." In his current role, Melton hopes to pass on some of those value sets to students at Fuqua.
"The College taught me that people make mistakes, and that they should be held accountable-but also that they can grow and learn from them," he said. "And it may seem like common sense to some of us, but a hot topic of research right now is knowing how much space to give young people so that they can make mistakes and learn from them in a safe environment. In some ways we've deprived kids of that opportunity because we're so safety-conscious. In a lot of ways that is a good thing, but if a child doesn't develop that grit they need to push through challenging situations, when they're out on their own, it can be challenging because they've never practiced.
"In his first year, Melton hopes to become more familiar with the Fuqua community, which services children from 11 counties in the Commonwealth. He's spending time sitting down with faculty, staff, and families to better understand their perspectives on education and the school's role in the larger community. He wants to get a sense of how they believe young people can grow to adults with a solid knowledge base and strong values.
"Gathering that kind of information will help me better understand where the school is today and help work with the board to set priorities for the future," he said.