From The Record, October 2014
"It does not take talent to hustle and be on time." Those simple words are found on a cheap sign hanging in the boy's locker room at Frank W. Cox High School in Virginia Beach. But they hold some truth for attorney Kevin Martingayle '88 of Bischoff Martingayle PC, a law firm based in the coastal city. Seeing that sign where his son was attending a club wrestling practice, he reflects on the idea that if a young man "simply does what he's supposed to do," he can succeed. It's one of the maxims he's learned along his road to success.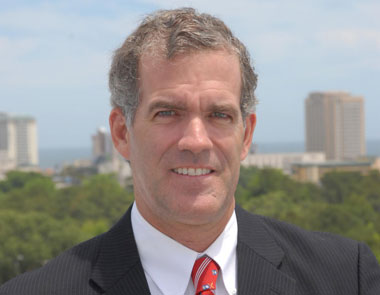 Taking that path led to Martingayle's recent election to a one-year term as president of the Virginia State bar (VSB). The VSB is the Commonwealth's mandatory state bar, which oversees 47,000 attorneys from the Kentucky border to the Potomac River and beyond. It is responsible for the regulation, improvement, and advancement of the legal profession within the state. To practice law in Virginia, one must be in good standing with the VSB.
Martingayle grew up in the capital near the University of Richmond. With 20 hours of college credit already on his record, and by stacking his workload, he was able to graduate from H-SC in only three years. From there he went to the University of Virginia School of Law, graduating in 1991. But his greatest challenges were still ahead, and some of them he found surprising.
Once he entered the law practice, he discovered a frenzy of activity that he had to organize and guide—and he was "dealing with adversaries who were engaged specifically in resisting what [his] clients wanted." His only previous jobs had been lifeguarding and running a landscaping business, occupations largely requiring friendly customer service. Debating in school and using the English language for argument and ideas had long been his natural talents, and they were key tools in the courtroom. But he wasn't used to an office environment in which his main priority was to manage conflict, chaos, and deadlines.
"It gets a lot more serious when you take people's money and are giving representation on legal issues that are important to [clients]. The pressure can be enormous."
Before he entered the practice, he knew that "of course, that's what lawyers do. But you don't realize how intense it is until you're doing it. This is serious, this is different; it's professional. It's fast, and it's somewhat vicious. It's no longer hypothetical; you're not kicking around ideas in a classroom. You're doing something that matters. To a client, there's no such thing as a small case or problem. You need to appreciate that in order to go solve that problem."
And that's exactly what he loves about practicing law: solving problems for clients. But his other passion lies in advancing the law in a direction he believes is right and good. "My favorite cases are arguing in favor of fundamental, constitutional rights cases: free speech, due process, and equal protection."
Two cases have stood out as especially satisfying. In the first, police were using a local noise ordinance at Virginia Beach to write tickets to small dining and drinking establishments along the beach. Nobody was complaining about excessive noise, but the police were constantly writing these tickets and even threatened to arrest people for excessive music volume. When the city sponsored loud concerts or other events in the same area, however, no tickets were issued. It was blatant government discrimination against small-business owners. The case went to the Virginia Supreme Court, and the court agreed that the ordinance was "unduly vague, lacked articulable standards, and violated due process."
A second case dealt with the Department of ABC's powers to take alcohol licenses from establishments for allowing lewd, noisy, or disorderly conduct on their premises. But the law was too vague, potentially resulting in confiscations of licenses on arbitrary grounds. Martingayle turned to the judge, who was a former chairman of a local political party, and said to him, "If you have a political rally—which is core-protected speech—in an establishment, and someone has the opinion that it is too disorderly, then they can take away its ABC license. And that, of course, is ridiculous." The judge agreed, and the law was changed.
"In both of those cases," said Martingayle, "I've taken personal pride in moving the law in a healthy direction: in the direction of greater freedom, greater liberty, and greater precision. And maybe the law would have done that without me—but I was the guy who did it."
About seven years ago, Martingayle got involved with the Virginia State Bar Council, which is the body that creates rules and governs the state bar. He saw an opportunity to get involved with the Executive Committee, a more select group within that council, and he was picked to serve.
There were two primary issues facing the bar at that time, both of which Martingayle recognized as necessary to securing the bar's finances and creating a healthier court system within the Commonwealth. The general assembly decided to refrain from appointing new judges to vacant positions to save money; and the former governor proposed to reallocate VSB funds to the Virginia general fund—even though that money came from membership dues, not taxes.
"We of course objected mightily, because it was our money, not tax money. The reason we built up a reserve fund is because we are not allowed to incur debt. We have to save up money first, and then buy things, such as improvements in technology."
After the ensuing battle between the government and the bar, the money was left alone and the vacancy problem was largely solved. But it was also a learning experience for Martingayle, who gained a new perspective before he assumed his role as president.
"Those two problems taught me that being president is not just ceremonial. You act as a diplomat, but the state bar president must also be like a fire extinguisher behind glass. In an emergency, you need to be available and effective."
As president, Martingayle hopes to continue solving the judicial vacancy problem and to work with the general assembly to avoid future crises. He wants to strengthen ties with circuit court clerks. He wants to work with law schools to make improvements to legal education, to make graduates "more practice-ready when they step out of the door, diploma in hand." And he wants to move the bar in a positive direction by maintaining good traditions, modernizing technology, and looking for ways to help attorneys be the problem solvers they're supposed to be. There are great tasks at hand, but Martingayle is ready to work toward those goals, and not without some of the tools that Hampden-Sydney provided to him twenty-five years ago.
"In general, it was excellent education instruction from the professors [that prepared me for law school]. Having a chance to compare them to those I had in law school, H-SC professors take a back seat to no one."
He recalls professor Kenneth Townsend in particular. "He was pleasant, brilliant, and I learned a lot of economics from him. I also learned how to be a good and decent person. But I tell you, I never took a class in which I thought I had a bad professor."
His formula for success—and his advice for current students—is no abstract philosophy or vain appeal to self-esteem. Indeed, as he said, "There is no magic formula."
Rather it is a simple, pragmatic, and indisputable recipe for achievement, and yet it still often escapes students who are distracted or lazy: "Go to class every day. Pay attention. Turn in everything on time. Study for quizzes and tests. Communicate with your professors. If you follow those simple rules, you're already going to be near the top of your class."