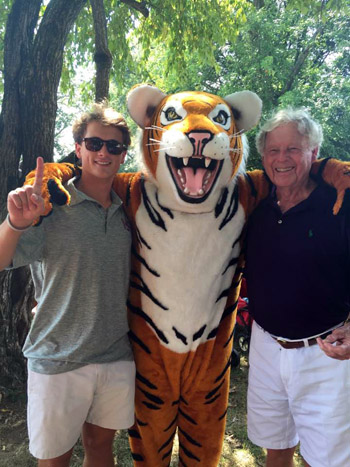 Cross Country runner Lewis Brooks '19 just broke the school record for the 8K on November 12 at the NCAA Regional Meet by shaving five seconds off the top time. He reached this goal - one he has been working towards all year - due to a positive attitude and hard work ethic.
Lewis has a self-assured confidence about him and a laid back vibe that makes interactions with him comfortable - smiling is inevitable. It's no surprise he has an active social life. A member of the Sigma Chi fraternity, Lewis can be found tailgating at football games or relaxing with the many friends he's made on campus. When asked his favorite aspect of Hampden-Sydney, with a chuckle Lewis responded, "I guess I can't say the ladies."
It's not all fun and games for Lewis though. He may crack jokes, but he's the first to keep his teammates in line according to Cross Country Head Coach Betsy Leonard. The aspiring economics major spends hours in Bortz Library, ensuring his grades are kept to the same standards as his running. In his three semesters at Hampden-Sydney College, Lewis has worked on the Student Giving Program, serves as the Community Service Chair for the Student-Athlete Advisory Committee, and has participated in the Mentoring Program where he spent an hour every week at the local elementary school.
Although some athletic coaches may want their players to focus solely on sports, Leonard is sympathetic to the life of a student athlete. "Class takes precedence. If they want to participate in something that will benefit them when they leave Hampden-Sydney, I want to be flexible." She also likes to give her team a say in their practice regimen. It provides learning opportunities and ensures they are practicing self-awareness and problem solving.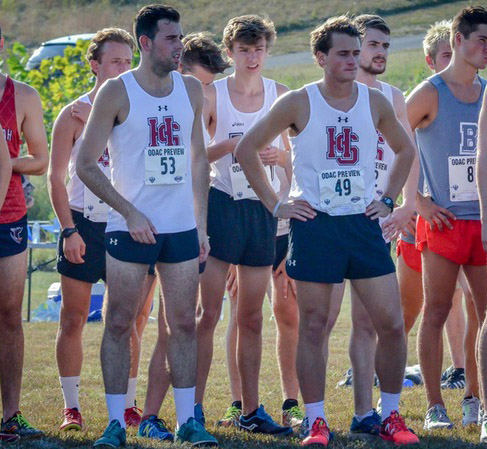 The collaborative approach to coaching has produced positive results in the athletes, both on the race course and in team dynamics. Leonard commented that this team is the tightest group she has worked with in her coaching career. She spoke of the growth Lewis in particular has shown already: "He didn't always understand his teammates' interests because of the differences in their personalities." With Leonard's encouragement and guidance, Lewis bridged the gap and adapted his approach in interacting with his teammates.
The flexibility and encouragement Lewis displays is perhaps why his teammates chose him as one of their captains. The role is one he's working hard on with the help of his coach, whom he credits for helping his progression. As captain, he serves as a liaison between the coach and athletes, and along with that job he analyzes how practices will impact meet preparation. With his affable demeanor, he is known to lift the spirits of his teammates and to turn the experience of failure into opportunities to improve.
Lewis epitomizes the "work hard, play hard" mantra. He employs self-discipline in his academic and athletic life, and with a relaxed cheerfulness, success is certain to continue.