"When I was 17 years old, I thought I wanted to go into chemistry and engineering because you don't have to write. I was wrong," says Mahdi M. Abu-Omar '92. "All I do is write."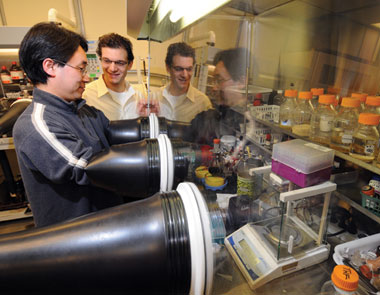 A chemistry professor at Purdue University, Abu-Omar leads a research group developing metal catalysts for renewable energy and environmental applications, including catalysts that use biomass to create hydrocarbon-based fuels like the gasoline we use to power cars and trucks. His team of 13 graduate students and three post-doctoral scholars busily work on independent, though related, research projects, and Abu-Omar guides the group through complex chemical theories, applications, and experiments. He also spends much of his time writing proposals, publishing original research articles, and reviewing peer articles for publication. Rather than spending his days in the laboratory, Abu-Omar spends them writing. That's not exactly what he expected.
He joined Purdue in 2003. Prior to that he was an assistant professor of chemistry at the University of California, Los Angeles, and a National Institute of Health post-doctoral scholar in bioinorganic chemistry at California Institute of Technology. He earned his Ph.D. in inorganic chemistry from Iowa State University. In 2008, he was a Senior Fulbright Fellow at the Weizmann Institute of Science in his home country, Israel. That same year, Dr. Abu-Omar was named University Faculty Scholar by Purdue University.
Dr. Abu-Omar is a Palestinian born and raised in Jerusalem. He attended a British boys' high school and in 1987 enrolled at Birzeit University in the West Bank with the intention of pursuing a degree in architecture. It was during that same year that the Palestinians began the first Intifada (uprising). One consequence was the Israelis' decision to close the Palestinian universities, including Birzeit. With no school and nothing to do, Abu-Omar moved to the United States to live with friends in Arlington, Virginia. This was a period of tremendous personal upheaval for him: his country was in turmoil; his father had died the year before; and he was living in a foreign country with no real prospects. His friends in the United States knew he was an outstanding student and set out to get him into college.
"Since I was in the 10th grade, I was on a science track at school. The concept of a liberal arts college was a completely new idea for me but I liked it. I applied to three schools-Hampden-Sydney, the College of Wooster in Ohio, and St. Olaf College in Minnesota. I loved them all and they all offered me generous financial aid packages; I don't really remember why I chose Hampden-Sydney." He adds with a laugh, "Herb Sipe probably wrote me a letter."
Abu-Omar enrolled in January 1989, a semester behind his classmates. "Hampden-Sydney was a real home away from home. At the end of the fall semester of my sophomore year-I don't know how it happened-I was recommended for a Venable Scholarship. Forever I am indebted to Hampden-Sydney College because they gave me free education, a free education as a stranger to the country. I guess, in a way, I was adopted by Hampden-Sydney College."
Despite his unique background, Abu-Omar says he never had a hard time fitting in at the College. "There was a feeling that Hampden-Sydney was a unique place and a special place, but not in a way that was elitist or arrogant. With my name and my accent and everything else, I was accepted. I never felt like an outsider. I was just one of the boys. By the time I was a junior, I was just one of the Hampden-Sydney men, a man driven by the desire to be a good citizen."
Meanwhile, Abu-Omar was getting the scientific training he wanted-and much more. "The chemistry department at Hampden-Sydney is amazing. You have a diamond there because the way they organize the curriculum. After taking organic chemistry your sophomore year, you did not do what I like to call 'cookbook' labs. You did not go in the lab and do an experiment that thousands, if not millions, of students have done before. You actually had to do advanced lab, which was research projects. You quickly are exposed to how science really works. You had to develop a research project. You were given a desk in the lab. You were given a key to the lab, and you had to schedule in your own hours of when you were going to do experiments. You had to give a research presentation during the chemistry seminar. You had to meet with your professor once a week and update him on what was happening with your project. That was a lot like doing real research."
Abu-Omar started doing summer research after his sophomore year, first with a colleague of Dr. William Porterfield at Louisiana State University. He says, "That's when I realized that I really enjoyed doing research. It was like when a kid solves a puzzle; it was very satisfying to think about the problem, design the experiments, and produce the results." He continued with summer research the next year at Hampden-Sydney with Dr. Kevin Dunn, "the one-and-only crazy guy." Finally, during his senior research project with Dr. William Anderson, Abu-Omar decided once and for all that research in the chemical sciences was exactly what he wanted to do.
"The training I got at Hampden-Sydney was very good. It was really special." He adds with a tongue-in-cheek attitude, "We don't have all of this crazy liberal arts stuff at Purdue. At Purdue we have general education requirements, but we don't have all of this stuff like, 'You're a science major; take Greek Literature in Translation'."
But Abu-Omar took that class at Hampden-Sydney College, with surprising results. "The funny thing was that I kept putting it off, but when I took it I really enjoyed it. When I look back at the liberal arts curriculum I had, I know it was worth it. I sacrificed taking more science courses. When I went to graduate school I never really felt deficient; I just felt like I didn't take as much chemistry and math courses as other students who were starting grad school with me. All it did was put the pressure on me during my first year by saying, 'I'd better keep up'."
Though the reality of chemical research is much different than what the young Abu-Omar thought, he finds his work incredibly rewarding. At his research group, he works with and mentors young scientists in much the same way he was mentored in the chemistry department at Hampden-Sydney. Despite working at a large research university, Abu-Omar still teaches, sometimes even Freshman Chemistry. During these classes, he tries to impart some liberal arts wisdom on his technically-oriented Purdue students.
He says, "Really college is about teaching you how to teach yourself. I like to think of the physical sciences as being like the social sciences and the liberal arts. We have to teach you chemistry, but really we have to teach you to think for yourself."