From The Record, July 2013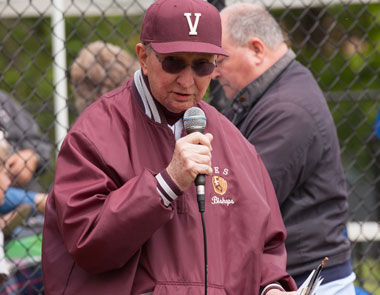 After parents, teachers and coaches are some of the most influential people in the lives young men. They spend long hours providing information and skills that are valuable for a lifetime. For 44 years, R. Maxwell Meador '58 taught Latin and coached boys (and later girls, too) at Virginia Episcopal School, a private boarding school in Lynchburg.
"A friend of mine from Bedford who graduated from Hampden-Sydney the year before me, Cliff Titus '57, had gotten a job at VES, as had another friend from Bedford. They knew that a position had opened in Latin. I had not planned to teach Latin; I had planned to teach history, but it was an opportunity to teach and to coach, which I had wanted to do."
During his first months at VES, he lived in the campus's old farmhouse, sharing the upstairs with a family of five. He graciously gave them one of his rooms. Later he moved into the dorms, where he was only a few years older than the students.
"That was a little crazy. One of the kids was 20 and I was only 21 or 22 years old."
Meador, who studied Latin under Dr. Graves H. Thompson '27, the longest teaching professor in Hampden-Sydney's history, says he "fell in love with Latin" and eventually earned his master's degree.
"Fortunately, my first year at VES, I taught all first-year Latin. Of course, the main goal was to have students learn Latin, but the language also gives you a good sense of your history. Sixty-percent of our English words are derived fromLatin words."
Teaching at VES was never boring; the school gave Meador the opportunity to do many different things. "It was a small school. I had a chance to teach, a chance to coach, and a chance to get in the administration. I was assistant headmaster for my last 15 or so years. It was a good combination of things to do that kept me from getting bogged down."
VES went co-ed during the 1980s and Meador thinks the school is stronger for it. "We had a strong all-male enrollment when we went co-ed and I think being co-ed saved the school. I don't think we could have survived a few years ago when the economy went bad and our enrollment dropped, if we had remained all boys."
VES of the late 1950s, when Meador began teaching, was much like Hampden-Sydney of the same era. Hampden-Sydney during the 1950s was simpler than it is today. Current students have wireless Internet access throughout campus. When Meador was a student, Cushing Hall had only one telephone and Venable Hall had none. If you wanted to watch television, you had to be invited to a fraternity house-the only place there were any. Students did not even declare a major; they simply got a bachelor of arts or a bachelor of science.
Students would stand in front of College Church to catch a ride into town and wait at the corner of High and Main Streets (conveniently close to the local woman's college) to catch a ride back to campus. Meador recalls hitchhiking from Farmville to Bedford as a young student. Once he was picked up by the author William Hoffman '49 who had just written his first book, The Trumpet Unblown, and was teaching English at the College.
Then there was the Vigilance Committee, a group of seniors tasked with finding and punishing freshmen who weren't following the rules. Every freshman had to wear around his neck a sign giving his name and hometown. He also had to wear a beanie (Meador still has his) and greet everyone he passed. "You never knew who was on the Vigilance Committee, so you were always on your best behavior. Every so often, the Committee would call a freshman in for violating the rules and paddle him. They would paddle them hard, too."Meador says the friends he made at Hampden-Sydney have been some of the best friends of his life.
"Jim Trammell '58 and I were roommates for two years in Cushing. Then we decided to try living in our fraternity houses. I was a KA and he was a PiKA. Well, I guess it wasn't such a good idea for him. He didn't make it through his senior year. He lived in Ohio and we sort of lost contact with one another, only exchanging cards at Christmas. After 25 years, he moved a little closer and we reconnected. We decided to go to Homecoming together one year. He came down to Lynchburg to get me and we picked up right where we left off 25 years earlier. Now we see each other a few times each year; I talk to him on the telephone two or three times a week. He is still one of my best friends."
Another dear friend is Johnny Waters '58, whom he sees two or three times a year. Waters is the former director of alumni relations for Hampden-Sydney and Meador is a regular attendee at the meetings of Lynchburg chapter of the Alumni Association.
"I really enjoy the meetings and the activities. It's a great way to meet other Hampden-Sydney people and to stay connected to the college. I enjoy getting together with others for lunch and going to watch Hamdpen-Sydney play athletics at Lynchburg College and at Randolph. It's a great way to stay connected."
At Hampden-Sydney, Meador was not much of an athlete. He tried out for the basketball team but got cut. Instead, he and his friend Jim Trammell ran the intramural athletics program. He also took a class in coaching (Hampden-Sydney offered such a thing during the 1950s), which proved helpful in his career at VES.
Meador coached football and baseball for many years, eventually working his way to head coach of junior varsity football and head coach of varsity baseball. He is rightfully proud of the lessons he taught on the field as well as in the classroom.
"I think athletics and academics play off one another. There is a lot you can learn on the football field or the baseball field or wherever, that you don't learn in class. Athletics is a vital part of education, especially at this age. When I started at VES, students were required to play sports all three seasons. It contributes to their total development."
He adds, "I am quite proud that some of my former players have gone on to become coaches, themselves. Chris Pollard played for me and he was recently named the head coach at Duke."
After 44 years in the classroom, Meador says many people ask him how students from decades ago differ from students today. He tells them with a smile: "Only the faces change. Students don't change."
The students as a whole might not change. However, Max Meador and the rest of the world's teachers undoubtedly have significant effect on the lives of individual students.