From The Record, January 2015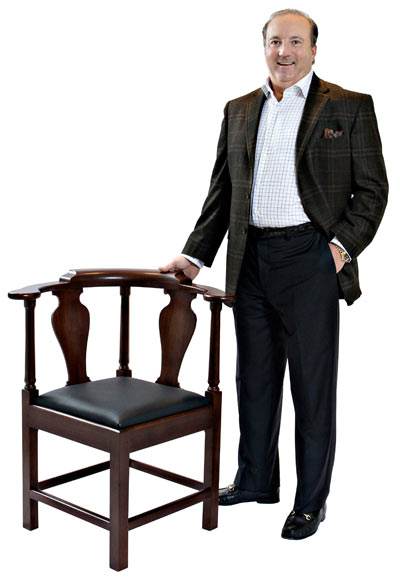 For six generations the Suter family has been handcrafting some of the finest furniture in Virginia. Today Owen Suter III '81 carries on the family tradition, working with his artisans to create the 18th-century reproductions in Richmond. It's not just wood and metal they're putting together, but as he said, "We're making tomorrow's heirlooms, today." After taking a look at the company's work, it's clear that the finely hewn pieces, often intricately inlaid and built using original techniques and styles, will serve generations of Virginia families foryears to come.
Suter grew up in the furniture business, his father being instrumental in his early experiences with to the craft. "I can remember taking a truck from Richmond up to Harrisonburg, to the manufacturing factory, and I would walk around to take it all in. I startedworking there in the summers and quickly picked up on what the craftsman were doing. I just watched, learned, and figured it all outthrough osmosis."
After his father passed, Suter's mother sold her interest in Suter's Furniture to his uncle in the mid-1980s. From there he started his own business out of Richmond, and since 1986 he has been working under the name synonymous with quality woodworking, carving out his own niche under Owen Suter's Furniture. He's always known cabinetmaking, he says, but building the company to its current prominence required much more than just a name.
He credits his friend and business mentor, Paul Byron, with helping him get the company off the ground.
"He never said he was too busy for me. He was a really good person who helped me a lot, especially when getting started. When you're young, you think you're invincible, but somebody who has some experience and has set up manufacturing companies all over the world-he has a wisdom that you just can't go out and buy."
Suter now oversees the handcrafted work from start to finish. "We take it from the raw lumber, mill it out, and put a finish on it. We retail a line of bedroom pieces, dining room furniture, occasional pieces, and a reproduction line for the Virginia Museum of Fine Arts. I have to say though that my favorite projects are the custom pieces-everything from whole kitchensto custom mantels. We do installation as well. We handle it from beginning to end."
It's a comprehensive trade that requires highly skilled craftsmen with many years of experience. Finding those craftsmen has been the primary challenge that Suter has had to overcome.
"Quality craftsman are hard to find today. I'm lucky to have a crew that has largely been with me from the start or has worked with me for years."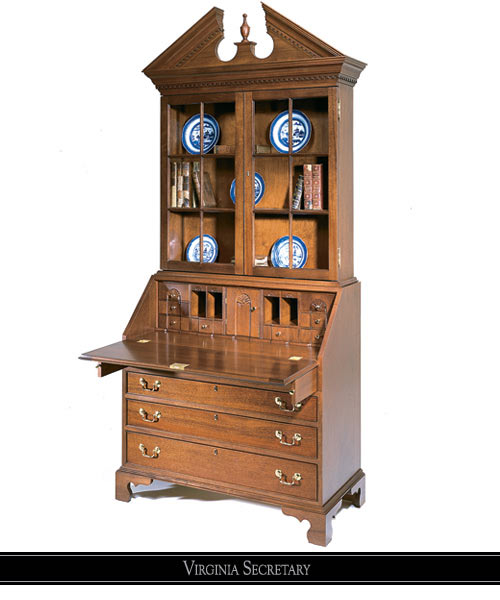 Most recently, some of Suter's 18th-century pieces have found a proper place in Colonial Williamsburg. Chris Ellis '85, the director of sales for the Colonial Williamsburg Foundation, called Suter in May 2014 to offer him the chance to build replica furniture for the living-history town. They started by making five pieces, with the prospect of more over time. One piece in particular struck a personalchord with Suter.
"The most exciting was our decision to make a replica of Patrick Henry's corner chair. We had to meticulouslymeasure, tweak, and rebuild it, but we were able to get the copy to look identical to the original. It wasn't an easy project, but it was definitely one of my proudest accomplishments," said Suter. "There's just a lot of history with the chair. It belonged to Patrick Henry, a famous Virginian who was on the Hampden-Sydney board of trustees. It hit home with me and my alma mater."
Suter will donate the first produced corner chair to Hampden-Sydney to honor William "Bill" Hardy '80, who was featured in the July 2014 issue of The Record. Hardy, recently diagnosed with Lou Gehrig's disease, was also honored with a scholarship fund that his friends and colleagues raised.
Although he finds working with Williamsburg and Hampden-Sydney rewarding, Suter gains most of his satisfaction by interacting with his day-to-day people and reflecting on the final products he and his craftsman create.
"I enjoy the people we work with. Many of our customers become our friends. When you start with raw lumber and are able to create heirlooms that families will have for generations, I sometimes have to sit back and think, 'Wow, we just built that.'"
For aspiring businessmen, Suter suggests that they think long and hard about what they want to do. "If you do decide to start your own business, it's going to take a lot of your time and effort, your life really, just to make sure the business is successful. A lot of people don't think about the time that is involved and all the things you have to sacrifice to succeed. That's what I'd tell younger people: Make sure you're committed and passionate about what you do."
And committed he is. Suter has dedicated his adult life to this business, much like the five generations before him, and both Williamsburg and his alma mater are fortunate to sample some of his accomplishments.
"It's worth it. I'm pleased with where we are and where we continue to grow. It's been a long haul, but at the end of the day it's something I am extremely proud of."